By Evan Brunell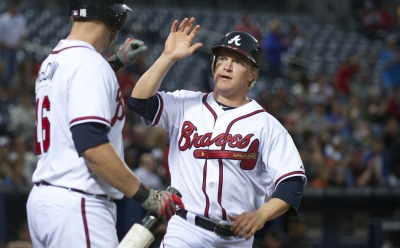 Fredi Gonzalez is still adamant that Nate McLouth belongs in the No. 2 hole for the Braves despite Atlanta getting off to a slow start offensively. While Jason Heyward withers away in the No. 6 hole much to the consternation of fans, Gonzalez believes the human element can't be discounted in making out the lineup.
"When you make out the lineup, the lineup is a function of the entire lineup -- eight guys, not just one guy," Gonzalez told the Atlanta Journal-Constitution. "Statisticians, numbers crunchers and my SABR [Society for American Baseball Research] people -- I'm a member -- they shoot holes in that stuff. But you're dealing with humans in the way the lineup is constructed."
Gonzalez went on to ask what exactly would happen if Heyward batted second as it would effectively leave the No. 6 batter behind Dan Uggla as a much lesser hitter, even if McLouth was moved down to the No. 6 spot. No. 5 hitter Dan Uggla would start seeing less pitches to hit and that could have a bigger effect on the lineup. Gonzalez also puts emphasis on balancing the abilities and handedness of hitters.
"Everybody [in the lineup] has got a function," Gonzalez said. "Like the situation [Tuesday], when McLouth bunts [Martin] Prado over to third," Gonzalez recalled. "Now are you are going to play the infield in? Are you going to pitch to Chipper or pitch to [No. 4 hitter Brian] McCann? That kind of stuff."
The main complaint structured around Heyward batting No. 2 instead of McLouth -- besides the obvious talent disparity between the two -- is the extra plate appearances that Heyward could receive.
"Then why don't we lead off [Albert] Pujols?" Gonzalez asked. "Or [Barry] Bonds? Lead 'em off."
In the end, the amount of plate appearances Heyward could gain from such a switch and the added value therein won't make or break the season. Statistically, projecting out each player's statistics along with spot in the lineup won't add up to a full win's difference. Things could change if McLouth proves he just can't hit in a Braves uniform, but even Gonzalez is smart enough to engineer a change if that happens. But when both are swinging the bat well, it's clear Gonzalez wants McLouth batting second.
All in all, the outrage over Heyward batting sixth and not second is a bit overblown. If McLouth fails, Gonzalez will move him out at minimal cost to the team. If McLouth succeeds, it won't really matter who bats second or sixth.
For more baseball news, rumors and analysis, follow @cbssportsmlb on Twitter or subscribe to the RSS feed.