By Evan Brunell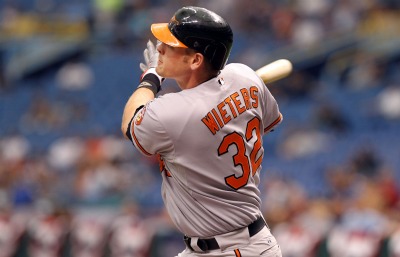 Matt Wieters was supposed to be the next big thing. Instead, he's struggled to find his stroke at the plate and live up to the hype that surrounded his selection in the 2007 draft and eventual promotion to the majors in 2009. In 920 total plate appearances, he has a pedestrian .265/.328/.393 line, far from what the Orioles thought they would get.
And now that the start to the 2011 season hasn't gone as planned, Wieters is back to the drawing board and may have found an answer to his issues.
"I went back and watched some tapes from '09 and some earlier times in my career and I think I got a little bit spread out," Wieters told the Baltimore Sun. "I'm just trying to get back to where I used to be. If you go through a long enough stretch and you have some success, you don't really go and look back at the tape and see what you are doing different. With the struggles that I've had going on lately, I went back and looked at the tape and I was probably a little bit more stand up and my feet were a little closer together. That's what we've been trying to work on the last few days. It feels good."
Wieters has been working on the changes the past few days with hitting coach Jim Presley and they paid off Wednesday against the Yankees when he had a 2-for-3 night, cranking a double and nailing an A.J. Burnett fastball for a home run. An admiring Buck Showalter said that he looks "real hitter-ish up there right now."
The home run off the fastball was notable because he has struggled to corral good fastballs during his time in the majors, which could simply be an issue with loading, as Wieters indicated the fix helped tweak. By spreading out, he wasn't able to gear up as effectively as he used to.
"Maybe instead of trying to be so mechanical up there, [I'm] just trying to get that feel of where it used to be," Wieters added. "It's sort of going back to when it was more natural for me. I was doing things that weren't comfortable probably all the way through spring training. It wasn't like I had to go back and change everything, but to be able to get back to the way I felt in '09 and '08, it feels good to go back to that way."
For more baseball news, rumors and analysis, follow @cbssportsmlb on Twitter or subscribe to the RSS feed.