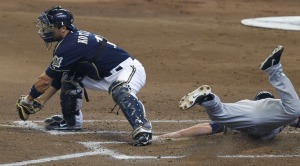 By C. Trent Rosecrans
If it were anyone but Chris Young, it may be easy to downplay a starter being pushed back two days int he rotation. But it is Young, and it is the Mets.
The team announced it has pushed Young's next start back two days because of biceps tendinitis. He was scheduled to start Friday in Atlanta, but will now start Sunday against the Braves. Now, Young may very well start Sunday and do well, but, until then, there's going to be some doubt, since Young's managed just 38 starts since the start of the 2008 season.
Young, 31, is 1-0 with a 1.46 ERA in two starts for the Mets so far this season, his first in New York. Last season Young allowed just one hit in six innings in his first start of the season, but was then put on the disabled list with a shoulder sprain. He then started three more games in September before signing with the Mets in the offseason.
In 2009, he made it until June before he suffered a torn labrum ended his season after 14 starts. He was limited to 18 starts in 2008 after missing two months when he was hit in the head by an Albert Pujols liner.
Young made at least 30 starts in each season from 2005-07, going 32-20 with a 3.60 ERA for the Rangers and Padres.
D.J. Carrasco is expected to start on Friday, but that could change depending on how much of the bullpen is needed in Thursday's doubleheader.
For more baseball news, rumors and analysis, follow @cbssportsmlb on Twitter or subscribe to the RSS feed.