By C. Trent Rosecrans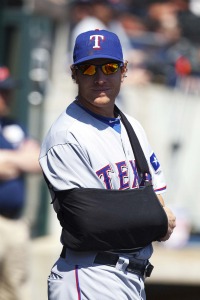 As has become the routine too often in sports, Rangers outfielder Josh Hamilton spoke on Tuesday and apologized on Wednesday.
You may remember Hamilton blamed Rangers third base coach Dave Anderson for his injury on Tuesday after trying to tag up on a foul ball to the third baseman.
On Tuesday, Hamilton said it was a stupid play and that he didn't want to go not he play, but "I listened to my coach and I went."
Wednesday, Hamilton had a closed-door meeting with Anderson.
"I appoligze to him for letting my emotions get out and getting ahead of myself and letting my emotions show through," Hamilton told reporters, via the Fort Worth Star-Telegram. "I could have taken a better route as far as cooling down before I spoke."
Hamilton added: "I see where I need to take responsibility for it. I appreciate Dave having confidence in my ability that I could make that play. I was just frustrated more for getting injured."
Earlier in the day, manager Ron Washington said he approved of the aggressive play, but didn't say much to reporters about what Hamilton said, standing by his coach.
"He's got a right to feel what he feels, but I'm certainly not going to blame David," Washington said (also from theStar-Telegram). "I think Josh has to live with what he said."
Anderson would not discuss the specifics, calling them moot. He did say he told Hamilton to be ready. He said he won't hesitate in the future because of the injury to last year's AL MVP.
"That's not going to happen," Anderson said. "Injuries are part of the game, but part of the game also is being aggressive. The issue is he got hurt. If he doesn't get hurt, we're not spending a lot of time talking about it."
Hamilton usually plays the game aggressively, as he showed the play before, sliding headfirst into third base on his triple. A player with Hamilton's speed has a good shot of beating Victor Martinez and Brad Penny -- could his concern about his own body and safety and ability to make had something to do with his inability to make it? Did he hesitate out of fear? I'm not saying he did, but I saw the play happening and thought it was a good, aggressive play that didn't work out in two important ways -- Hamilton was out on the play and now out for six to eight weeks. I'm not so sure at the time Anderson didn't make the right call.
For more baseball news, rumors and analysis, follow @cbssportsmlb on Twitter or subscribe to the RSS feed.