By Evan Brunell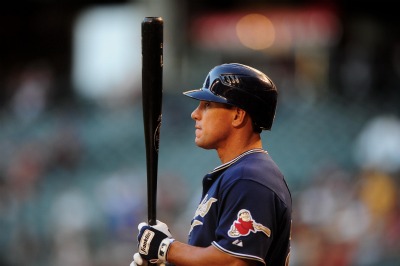 "Who is the most despicable?"
That's what the jury will be deciding on, according to former baseball star Brian Giles' attorney, James Scott. Scott and Giles are embroiled in a seedy trial with ex-fiancee Cheri Olvera. Both sides are accusing the other of domestic violence with money (of course) at stake.
As the San Diego Union-Tribune outlines, this is a case of he-said, she-said:
Cheri Olvera says Giles abused her at least four times and broke an oral contract to provide for after they broke up in 2008. She said she gave up her job and sold her home in Houston to support him and live with him for five years from 2003 to 2008. She seeks about $500,000 in damages in recognition of this non-marital relationship. She originally sought $10 million.

Brian Giles says Olvera abused him and fraudulently wrote checks from his Bank of America account. He also seeks the return of a $107,000 engagement ring he gave her prior to their canceled wedding in November 2007. His attorneys have portrayed the case as part of a pattern of Olvera seeking money from rich men, including pro baseball players.
Of course, Olvera has no photos of the incidents she accuses the former Padre of perpetuating, neither did she need to take pain pills or seek medical attention. Oh, and about seeking money from rich men? Olvera is currently engaged to former Twins and Yankees star Chuck Knoblauch, who testified at the trial about how much jewelry he has bought Olvera.
On Giles' end, however, he's gone back and forth in accusing Olvera of domestic violence on her part and also pled no contest to misdemeanor battery due to a questionable incident captured on a surveillance camera in 2006 that was inconclusive in whether Giles struck her or not.
This isn't TMZ, so we'll stop here. It's unfortunate to see such sordid things happen, but they do all too often. It just happens to be rare that one of the people involved is a former baseball All-Star.
For more baseball news, rumors and analysis, follow @cbssportsmlb on Twitter or subscribe to the RSS feed.