By Evan Brunell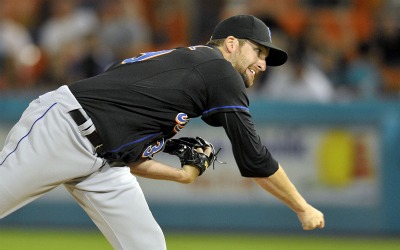 On Monday, for the first time since 2009, Jason Isringhausen pitched in a major-league game. Wearing a Mets uniform, it was also Izzy's first time in that uniform since 1999, before he went on to have a successful career as closer for the Athletics and Cardinals.
While Isringhausen flirts with injury on every pitch, there's no denying his talent once he takes the mound and manager Terry Collins appears prepared to throw him right into the fire.
"I'm not afraid to use [Isringhausen] at any time," Collins told the New York Post. "I'm intrigued to use [him] in those big situations."
Unfortunately, using Isringhausen in big situations -- which sounds a lot like Collins is anointing him the setup man -- means someone else will be demoted to less stressful innings, and Bobby Parnell could be that guy."
The Mets shopped lightly this offseason, hoping to cobble together a bullpen that would be good enough, banking on Parnell's ascension to setting up Francisco Rodriguez. Instead, Parnell's bombed in the early going by giving up four runs in 4 1/3 innings. He's added seven punchouts but also walked three. It's still way too early, but Mets brass isn't pleased with Parnell.
"Bobby is either going to step up and do the job or we'll have to find someone else," pitching coach Dan Warthen said. "We'll go with the hot hand, which might be [Isringhausen], Pedro Beato or D.J. Carrasco. We're looking, but nobody is jumping out."
It's not just Parnell that is struggling -- the 4-6 record for New York isn't unexpected, but New York has made too many sloppy errors that have contributed to the overall sense of malaise that seems to have settled over the club. Parnell is still a big part of the future, and could easily succeed Francisco Rodriguez as closer next season. That's how intriguing his arm is, but to hear Collins tell it, Parnell has a ways to go toward accepting defeat.
"This guy has a great arm," Collins said. "He should go out there, and if he makes pitches with his good fastball, he's going to get outs. One of the things he's got to realize is, once in a while you're going to get hit."
This is a bit discouraging to hear, as failure is embedded as a part of the game. Hitters are thrilled if they get a hit three times for every 10 trips to the plate. On the flip side, pitchers -- at least, any worth their salt -- should never have trouble retiring the majority of hitters. But to hold oneself to such outlandish expectations and get frustrated over allowing hits is to fight a losing battle. Giving up hits is going to happen; more important is keeping yourself in check and making quality pitches. Parnell's already reached the majors -- that's a major accomplishment. Now he just needs to let his talent speak for itself.
For more baseball news, rumors and analysis, follow @cbssportsmlb on Twitter or subscribe to the RSS feed.