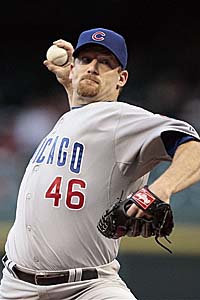 By Matt Snyder
The
Cubs
survived Monday night with a win, but did nearly everything they could after the fourth inning to give the game to the hapless
Astros
. They pounded the ball all over the yard for four innings while
Ryan Dempster
fought through early command issues and settled in. It was 5-0 and everything seemed to be in control. Things started to unravel soon thereafter due to a pitching gameplan that made little sense.
You see, the Cubs are going to use a reliever to start Tuesday's game.
James Russell
is slated to go about three innings, so the Cubs knew they were going to tax the bullpen Tuesday. So when Dempster was north of 100 pitches and losing control -- he walked two of the last three hitters he faced in the sixth -- manager Mike Quade tried to squeeze a seventh inning out of him. That was fine. He can handle the workload, it was the bottom of the order and they still had a four-run lead.
Then
Bill Hall
hit a home run.
OK, so let Dempster face
Michael Bourn
with a three-run lead. I guess I could see the case to let that happen. But then Bourn doubled and it actually could have easily been called a home run. If you made a list of the top 10 least powerful hitters in the league, Bourn would be on it. And Quade and his staff even had time to discuss things while the umpires used instant replay to see if the ball left the yard or not. It was ruled a double and a clearly gassed Dempster was left in the game.
Of course, Bourn scored pretty shortly thereafter as
Angel Sanchez
followed with a home run to cut the score to 5-4. Finally, mercifully, Dempster was removed after 115 pitches and nearly blowing a five-run lead in a matter of 1 1/3 innings.
About this time, the offense stopped hitting, too, as the Astros' bullpen allowed zero hits and two walks in the final four innings (it's stuff like this that makes me wonder how I've avoided a heart attack in my 25-plus years of being a Cubs fan).
But the bullpen did make the lead stand up, as
Sean Marshall
and
Carlos Marmol
got some huge strikeouts to escape late Houston rallies.
Of course, now the Cubs have to worry about filling six innings of relief tomorrow, assuming Russell can make it through three. Sure, they were dealt a bad hand with injuries to both
Randy Wells
and
Andrew Cashner
, but you don't have to create adversity for yourself by using a relief pitcher as a starter like it's spring training.
There's been no official word Quade left Dempster in due to the plan for Tuesday, but let's be honest here: If Cashner or Wells was taking the mound Tuesday, there's no way Dempster is in the game that long.
For more baseball news, rumors and analysis, follow @cbssportsmlb on Twitter or subscribe to the RSS feed.