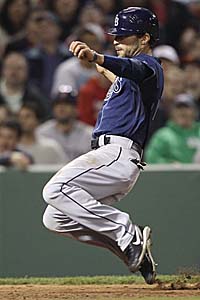 By Matt Snyder
Sam Fuld
didn't hit for the cycle Monday night in a 16-5
Rays
' victory over the
Red Sox
, but he easily could have -- if he cared for that sort of thing. He came to bat in the ninth, having already collected a home run, triple and double. He laced a ball to left field and didn't stop at first base, instead elected to garner his second double and fourth extra-base hit of the game.
Hitting for the cycle is a fun little anamoly in the baseball world. It's tough enough to get four hits in a game, but by the time you factor in getting three extra-base hits and having enough weird luck to get a single, double, triple and home run -- well, the odds just aren't great.
Someone like Fuld, who entered Monday's game with just one career home run and triple each in 180 plate appearances doesn't figure to have a great shot at hitting for the cycle.
So it's easy to see why the Twitter world was clamoring for a cycle Monday night when he dug into the batter's box in the ninth inning of a game that was already long-since decided. It's just that hitting for the cycle isn't the type of feat you build a career around. It's a great offensive game, but so is two doubles, a triple and a bomb. Plus, stopping at first would have been selfish and even disrespectful to his opponent.
Kudos to Fuld for playing the game the right way and not letting a quirkly feat get in the way.
For more baseball news, rumors and analysis, follow @cbssportsmlb on Twitter or subscribe to the RSS feed.