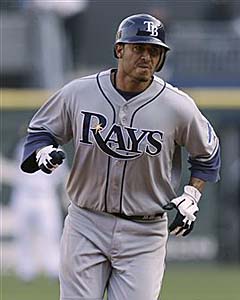 By Matt Snyder
Early Saturday evening in Chicago, there was a heated exchange between
Felipe Lopez
and several members of the
White Sox
-- including manager Ozzie Guillen and catcher
A.J. Pierzynski
.
The issue started when White Sox pitcher
Chris Sale
threw an inside pitch to Lopez, who stared down Sale for apparently having the audacity to pitch inside -- seriously, it was not anywhere near his head, nor did Lopez have to dive out of the way. It was just an inside pitch. Lopez followed with a no-doubt home run. After the ball left his bat, he flipped his stick toward the mound. Yes, into the field of play. When Lopez arrived at home, Pierzynski greeted him with a simple question. You could read his lips, and the clean version is that he just wanted to know what that bat-flip was all about. Lopez and Pierzynski were separated by the umpire while several guys from the White Sox dugout, including Guillen, were screaming toward the field in anger as well. Fortunately cooler heads prevailed and nothing further happened.
Sunday,
Rays
skipper Joe Maddon made it very clear that type of behavior will not be tolerated.
"That's not who we are. That's not how we play,'' Maddon said. "I'm not into the end zone demonstration that much. I think we've really morphed into this, I believe, very classy group over the last several years and I want to maintain that kind of thought about us. I don't even want to say image - you think about the Rays, you think these guys handle themselves in a certain way. So, we don't do that here.'' (
TampaBay.com
)
Good for Maddon, though it's hardly surprising. He's one of the most respected managers in the game for a reason.
To be fair to Lopez, he said he didn't flip the bat toward the mound on purpose and that he called Guillen to apologize. I definitely buy the apology, but you rarely, if ever, see a bat accidentally tossed that far into the field of play. And we know the staredown of Sale wasn't an accident. The smart money is on him realizing his error later and then calling Guillen, but all's well that ends well and the situation seems to have been put to bed.
For more baseball news, rumors and analysis, follow @cbssportsmlb on Twitter or subscribe to the RSS feed.