By Evan Brunell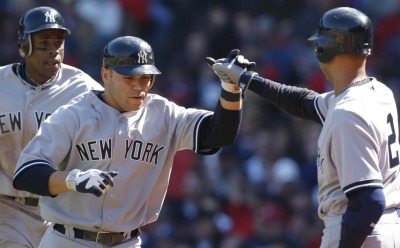 In the offseason, the Red Sox flirted with the idea of signing Russell Martin, but the backstop eventually hitched on with the Yankees.
"The Red Sox, I think they were a little iffy with the injuries that I had and they weren't too sure," Martin told WEEI, referring to his torn labrum in his right hip that ended his season last August. It's the same injury that Mike Lowell struggled with in the last two years of his career with the Red Sox, which certainly had to play a part in Boston being skittish. "It was one of those injuries that hadn't happened in baseball. The Yankees took the chance and hopefully, I'll make it a good one for them."
Martin has rewarded New York so far, bashing two home runs in Saturday's game against Boston to push the club to a 9-4 victory. Overall, he has three homers on the young season with a .321 batting average.
"My focus is just going out there and giving my best effort every day," Martin added, also noting he holds zero grudges against Boston for their decision. "With this lineup, you feel like you're protected anywhere you hit, and that's a little bit different than the last couple of years. I feel comfortable wherever I hit in the lineup and I'm just trying to put good swings on the ball."
How's his hip feeling?
"Not really worried about it," he said. "I was just wondering when it was going to come back. So far, so good. But it's a long season so I'm not going to get ahead of myself by any means. I'm just going to keep going out there, keep playing hard and hopefully, keep playing good."
Martin is expected to catch the bulk of New York's games, although the team will certainly rest him more often than they did back in Los Angeles, where they essentially ground Martin into the dust by catching him almost every day.
For more baseball news, rumors and analysis, follow @cbssportsmlb on Twitter or subscribe to the RSS feed.