By Evan Brunell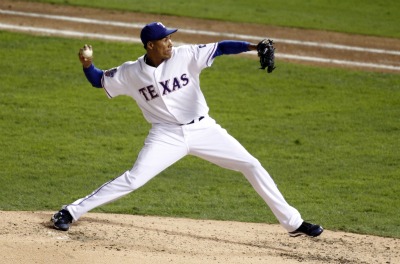 Ron Washington appeared on SportsRadio 1310 The Ticket Friday morning and mentioned that it is not a certainty that Alexi Ogando returns to the bullpen.
"If Ogando continues to pitch the way he pitches, I think he makes that tough," Washington says in a transcript provided by the Dallas News. "You won't try to fix something that's not broke. If he goes out there and continues to pitch the way he did the other day, that's going to be a tough call."
Ogando impressed in his start against the Mariners on Tuesday after being pressed into duty thanks to the injury to Tommy Hunter. Ogando, who had been shifted back to the bullpen after a brief tryout to be a starter in spring training, went six innings and allowed just two hits and two walks to Seattle, while striking out four and not allowing a runner to cross the plate.
Some things working against Ogando's favor in long-term success is that pitchers tend to benefit from the cold weather early on and the advantage tilts to the batters in the summer months. In addition, Ogando faced a Mariners offense that is not all that different from the historically-bad numbers the club put up last season. Given Ogando primarily works with a fastball and slider too, it will be a matter of time before hitters start keying in on just these two pitches and exercising discipline therein. It is almost unheard of for a starting pitcher to succeed on solely two pitches. Also working against Ogando is his endurance -- last season he tossed 78 1/3 innings, postseason (6) and minors (30 2/3)) included. In 2009, that number shrunk all the way to 18 1/3 and he had no professional innings in 2008.
It's a lot to ask Ogando, then, to stay in the rotation for a full year. However, you can bet the Rangers know that as well, but are willing to keep their options open. After all, if Ogando keeps setting down batters, why wouldn't they keep him in the rotation?
"We as a group will sit down and discuss that, but it's not anything that's written in stone that Ogando goes back to the bullpen if he's pitching well," Washington added. "We're going to ride what's working for us, and that's the only answer I can give to you. We'll ride what is working. And if Ogando is working, we'll ride it."
For more baseball news, rumors and analysis, follow @cbssportsmlb on Twitter or subscribe to the RSS feed.