By C. Trent Rosecrans
Manny Ramirez always gave people plenty to talk about, but aside from the miscues and funny stories, there are some very serious numbers in his career. Here's a look at some of the numbers he put up as a player:
• 555 career home runs are 14th overall in baseball history, between Reggie Jackson (563) and Mike Schmidt (548) and ahead of the likes of Mickey Mantle (536), Willie McCovery (521) and Ted Williams (521).
• 2,574 hits (82nd all-time) and 1,831 RBI (18th all-time)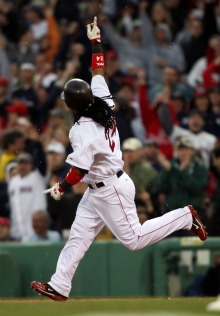 • Career slash line of .312/.411/.585 with an adjusted OPS of 154 (25th all-time). Hia .996 OPS is ninth all-time.
• 29 career postseason home runs are the most in history, ahead of Bernie Williams (22).
• 21 grand slams are second to Lou Gehrig (23).
• 78 career postseason RBI are second in history, behind Williams (80).
• 12-time All-Star
• 2004 World Series MVP
• 9 Top 10 MVP finsihes
• 9 Silver Sluggers
• 2002 American League batting title (.349)
• 2004 American League home run leader (43)
• 216 intentional bases on balls are 11th all-time
• 274 HRs with Red Sox, sixth-most in franchise history
• 236 HRs with Indians, third-most in franchise history
* 111 postseason games (fifth most), 493 postseason plate appearances (third most)
For more baseball news, rumors and analysis, follow @cbssportsmlb on Twitter or subscribe to the RSS feed.