By Evan Brunell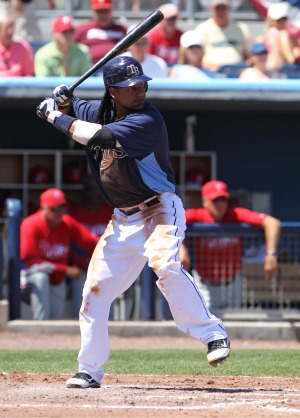 So, what's the reaction to Manny Ramirez's surprise retirement?
"I am surprised," teammate Johnny Damon -- both currently with the Rays and for years in Boston -- told the Associated Press. "This spring he played well. ... I don't know everything that's been brought up. All I know is he's a great teammate and a great player."
Close friend and former Red Sox teammate David Ortiz concurred after seeing the Red Sox beat the Yankees for the first win of Boston's season. Big Papi indicated that he had heard the news in between innings as he told MLB Network after the game.
"It shocked me," he said. "I talked to him during spring training while we were playing against Tampa. He looked really good. I know that he was going to be able to put good numbers [up]. I don't know what happened. I don't know the details."
Manager Joe Maddon tweeted out a reaction, saying "A great player retired, but I believe it is a galvanizing moment for us."
Jason Giambi of the Rockies also weighed in as someone who acknowledged taking steroids in his career and battled Ramirez's Red Sox while with the Yankees.
"I'm shocked," said Colorado's Jason Giambi, who has acknowledged taking steroids during his own career. "He was phenomenal, one of the best right-handed hitters I've ever seen. He always kind of portrayed that he was out there but he knew how to hit, man. He was unbelievable when it came to hitting. He knew what he wanted to hit and what pitch he wanted to hit and what your were going to throw him, and watching him take an at-bat was pretty impressive. ... He always played that he was aloof, but he really knew how to play the game. You could talk hitting with him and his work ethic was pretty unbelievable. He would be in the cage, hitting off breaking-ball machines and I think that's a part of him that people didn't see, that he put his time and effort into hitting."
Phillies manager Charlie Manuel was short and succint in his appraisal. Manuel oversaw Ramirez in 2000, his first year managing the Indians. After Ramirez left following the season, Manuel would manage two more years in town before being fired.
"Might have been running out of bullets. Father Time was catching up to him."
UPDATE: The St. Petersburg Times' Marc Topkin posts this video of reaction from Johnny Damon and manager Joe Maddon:
UPDATE:
Ramirez's former Dodger teammate
Rafael Furcal
tells CBSSports.com senior writer Scott Miller
he was surprised by the announecement.
"I promise you, he does not want to retire," Furcal said. "I don't know what happened."
UPDATE:
Here's two more from former teammates, both Red Sox now,
via the Boston Herald
:
Bobby Jenks
: "Once you get caught once, you're already banged 50 games. Why try again? It's a little stupid, but I guess he made his own choices and now he's got to live with them."
Kevin Youkilis: "I don't know why he retired, but the guy had one of the best careers and Hall of Fame numbers and all that. He's a guy who will go down as one of the greatest right-handed hitters of all-time. He had a great stretch. There's so much stuff on the drug thing, from stuff you can get at the drug store. You never know what it is. … I always said, guys that get caught for stuff, this game's hard. To hit a baseball, there's a lot of guys that look great in the weight room. Some of the stuff, if you look back on Barry Bonds and all the stuff he's going through and supposedly what he did, if you saw the guy hit, it was like no other. The guy would see 15 pitches, and the catcher would hold his hand out and he'd get one pitch and it would be a home run. Manny was the same way. To me, personally, what they did was pretty remarkable. I'll always give them credit for that."
And then his former manager in Chicago, Ozzie Guillen from the Chicago Tribune: "Manny, as a friend, as his former manager, he was great for the game, he's done a lot of great things for baseball. He was one of the best hitters to play the game. He played good for us last year. I wish he could have played better. He was great in the clubhouse. I don't have any complaints or regrets to have him with the ballclub."
Guillen also said it sends a message to current players about MLB's drug testing program: "It shows people that Major League Baseball is after [drug users]. They're not playing around. They're letting the players know how tough they're going to be. They say they'll be checking and monitoring those guys, and jeez, they're showing how much they want to make this game clean and clear.
"That's the first thing I told the players in the meetings -- they're not playing around. If you get cut you should be punished because now we know for last five or six years they're after this, and any players that [take banned drugs] they're taking a risk."
UPDATE:
Former teammate
Orlando Cabrera
tells this great Manny story
to the Cleveland Plain Dealer
:
"Curt Schilling is on the mound," said Cabrera. "He comes to the dugout frustrated and says, "What the hell is going on?' Manny comes to the dugout laughing. He saw my glove and grabbed it and says 'Gold Glove.' He raises his glove and says "Bronze Glove.'
"Then he looks at Schilling and says, "I got a bronze glove.' Schilling is so mad that he starts laughing. Then Manny goes up later in the game and hits a grand slam. Schilling said, "That's why I can't say anything. I know he's got a way to fix things and that's the way he does it."
For more baseball news, rumors and analysis, follow @cbssportsmlb on Twitter or subscribe to the RSS feed.