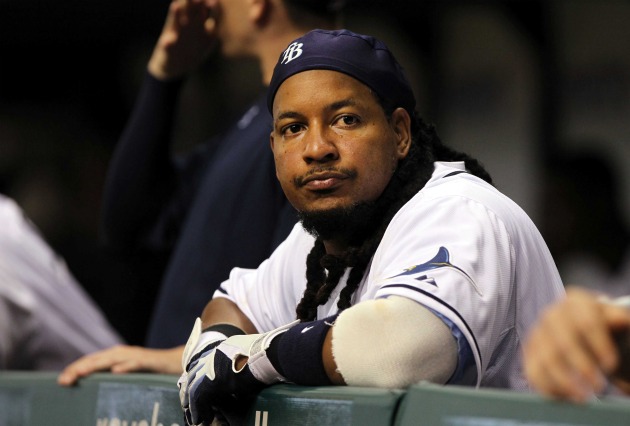 By Evan Brunell
So how are the Rays going to move on from their short Manny Ramirez era?
Well, at least in the outset, Tampa Bay is calling up first baseman Casey Kotchman to be the starting first baseman while Dan Johnson will shift to DH. Kotchman was a former starting first baseman for the Angels and Braves before his career went into a tailspin with the Red Sox and Mariners.
He signed a minor-league contract with the Rays to open 2011 and reported to Triple-A despite putting up strong spring training numbers. The 28-year-old's best days are probably behind him, although Tampa will obviously cross their fingers and hope for the best. He is a solid fielder, so can help the Rays in that department.
However, Dan Johnson moving to DH is hardly inspired, even if it's the right move. Johnson has a few big hits with the Rays over the last few years, but struggles to crack the Mendoza Line and the jury is still out on whether he can be a viable starter. The Rays have really stretched themselves thin with Ramirez's retirement and certainly have to be thinking about out-of-organization alternatives. The team will likely give its in-house alternatives every chance to succeed, however, given the team's finances. But if Tampa stays solely in-house if its options aren't performing to par, it will be a mistake. While Tampa was thought to have been far behind the curve to make the postseason, Boston's 0-6 start to the season has really opened the door.
In the meantime, Kotchman and Johnson are the guys, but don't be surprised to see backup catcher Kelly Shoppach worked in at first base more regularly. Matt Joyce also stands to benefit from the retirement, and playing time should be much easier to come by for Sean Rodriguez once Evan Longoria returns from the disabled list.
The team also has a top outfield prospect in Desmond Jennings that they farmed out to Triple-A for additional seasoning. This move may cause the Rays to dip down and promote Jennings sooner rather than later.
Whether with or without Jennings, Ramirez's retirement could cause the Rays to move Johnny Damon out of left field, where he no longer belongs. Damon DHing would free the outfield up for either Joyce or Jennings.
Yes, the Rays are scrambling a bit to replace Ramirez. However, Ramirez looked as slow and old with Tampa as he did during his stint with the White Sox to finish out 2010. It really won't be that difficult to replace that Manny Ramirez, even if we all look at him as the home-run slugging behemoth that was feared for almost two decades.
For more baseball news, rumors and analysis, follow @cbssportsmlb on Twitter or subscribe to the RSS feed.