By C. Trent Rosecrans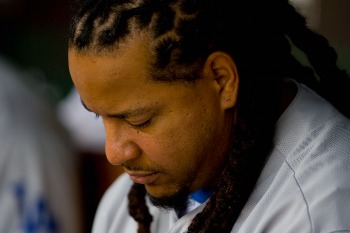 Manny Ramirez, meet Rafael Palmeiro, Mark McGwire, Pete Rose and Joe Jackson -- you guys will forever be known as Hall of Shamers with Hall of Fame numbers.
In January, the Baseball Writers Association of America sent a clear message when Palmeiro received just 11 percent of the vote, despite having both 3,020 hits and 569 home runs. He is the only eligible player with 3,000 hits not in the Hall of Fame (noting Rose is not eligible). And of the 25 players with 500 career home runs, 17 are eligible for the Hall of Fame with only Palmeiro and McGwire are not in the Hall.
Ramirez doesn't have 3,000 hits, but his 555 career homers and .312/.411/.585 slash line and 154 OPS+ over 19 seasons appealed to the more stat-orientated voters, while his "presence" and "fear he put in pitchers" appeal to those who apply the eye test to voting.
Add to his numbers, he also hit 29 postseason home runs and was the 2004 World Series MVP as the Red Sox broke the Curse of the Bambino, so he even wins the Jack Morris voters over.
However, the activist voters have kept out not only Palmeiro, who like Ramirez, served a suspension for testing positive for performance-enhancing drugs, out of the Hall of Fame, but also those assumed to have taken PEDs (McGwire) and even those that only had the slightest rumors of PEDs attached to their name (Jeff Bagwell).
It seemed like even the constant excuse making that "Manny being Manny" was even going to get him some votes from those who wouldn't excuse Palmeiro or McGwire's transgressions and make his candidacy at least interesting when his name finally appeared on the ballot.
I called up one voter who had covered Ramirez today to ask him if this changes his vote. Well, it didn't change it, but did solidify it.
"I would have had a hard time reconciling his first suspension -- I know the argument that it's so widespread and you don't know who did and who didn't -- to me, he was caught and he was clearly cheating at the time, not only was it illegal and against the rules," the voter said. "I would have had a hard time voting for him before today. The fact that it happened again, I wouldn't vote for him now. It solidifies my feeling. WIth the steroids out of the question, he was a no-doubt Hall of Famer. He was one of the two or three best hitters I'd ever seen, but I won't vote for him now."
This voter, it should be noted, did vote for Bagwell but not McGwire or Palmeiro.
In the end, Ramirez may end up being one of the best right-handed hitters in baseball history, but he'll end up busted instead of with a bust in Cooperstown.
For more baseball news, rumors and analysis, follow @cbssportsmlb on Twitter or subscribe to the RSS feed.