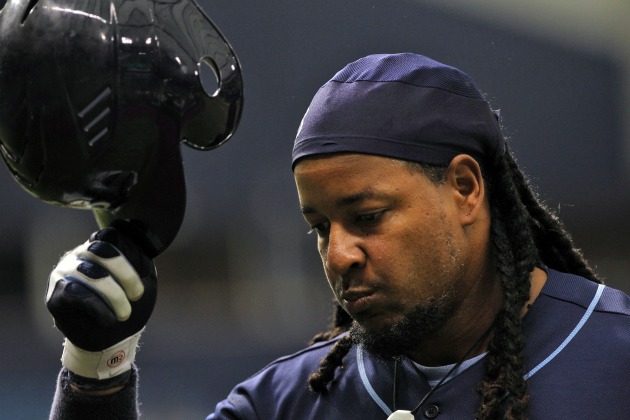 By Evan Brunell
In a move out of left field, Manny Ramirez has retired, and it may have something to do with steroids. MLB issued a statement in the middle of the Red Sox-Yankees game announcing Ramirez's decision.
Major League Baseball recently notified Manny Ramirez of an issue under Major League Baseball's Joint Drug Prevention and Treatment Program. Rather than continue with the process under the Program, Ramirez has informed MLB that he is retiring as an active player. If Ramirez seeks reinstatement in the future, the process under the Drug Program will be completed. MLB will not have any further comment on this matter.
Michael Schmidt of the New York Times adds more information, saying Ramirez tested positive for a performance-enhancing drug in spring training and the test recently returned positive to baseball's offices. That jives with MLB's statement, and Ramirez would be facing a 100-game suspension if he chose to return to the game. Ramirez previously served a 50-game suspension for testing positive for HCG, a women's fertility drug that can be used to restart a body's testosterone production after a steroid cycle. He is also thought to be on the sealed list of players who tested positive in 2003; the same list Alex Rodriguez and David Ortiz are believed to be on.
The Rays were surprised of the news, as Ramirez did not even give them a heads up.
"The Tampa Bay Rays were informed today by the commissioner's office that Manny Ramirez has decided to retire after being informed of an issue under the drug program," the Rays said in a statement. "We are obviously surprised and disappointed by this news. We will have no further comment on this matter, and our fans and organization will carry on."
Sports Illustrated has more on the suspension, saying Ramirez was in the middle of the appeal process that involved re-testing his sample with independent doctors as well as speaking to MLB about why he tested positive. However, Ramirez dropped the appeal midway through in order to retire.
Ramirez walks away after just 17 plate appearances with the Rays on a make-good $2 million deal to function as the team's DH. He mustered just one RBI single before leaving the team for "personal reasons" Thursday. He was also scratched from Wednesday's lineup with what manager Joe Maddon called as simply a break. That means his final game came on Tuesday in Anaheim taking on the
Angels
when he made a pinch-hit appearance in the eighth inning, recording an out.
As one of the stars who dominated the headlines during his career, for both heroics on the field and antics off (and sometimes on), Ramirez was one of the more polarizing players of his generation. For his dominance, he earned over $200 million, including his eight-year, $160 million pact he signed with Boston for the 2001 season.
There's no ignoring Ramirez's impact on the field as he banged 555 home runs in a 19-season career, eight apiece with the Red Sox and Indians before traveling a nomadic career by spending three years with the Dodgers and parts of a season with both the White Sox and Rays. But there was plenty off the field that Ramirez struggled with, as he constantly butted heads with ownership and players in Boston before finally forcing his way out of town to Los Angeles. Although he was hailed upon his arrival, Dodgertown quickly soured on Ramirez as well and he was dealt to the White Sox last August for a forgettable stint.
Now, Ramirez's last act is to stun baseball by retiring in-season due to a PED issue. Only Manny would be able to pull this off.
Stay tuned to Eye on Baseball for more Ramirez coverage.
For more baseball news, rumors and analysis, follow @cbssportsmlb on Twitter or subscribe to the RSS feed.