By C. Trent Rosecrans
Yunel Escobar was diagnosed with a "very mild" concussion and will not go on the new seven-day disabled list.
"We don't think he'll be out that long," Toronto general manager Alex Anthopoulus said according to John Lott of the National Post.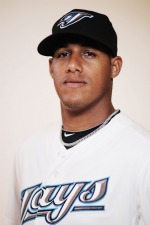 Esobar is feeling better and has been cleared to travel with the team on their upcoming 11-day road trip through Anaheim, Seattle and Boston.
"CT scans last night of the head and neck all were negative," Jays manager John Farrell said. "I actually spoke to him this morning. He felt good this morning."
Escobar hit the knee of Oakland's Andy LaRoche when he slid head-first into third on a triple in the fifth inning of last night's game. He stayed in the game after being examined by the team's trainer, but was then pulled when he was seen shaking his head and acting erratically in the top of the sixth.
Escobar did not stay in a hospital last night, as had been reported, but was back at his hotel, with a trainer who stayed with him and checked on him every two hours.
Escobar underwent the league-mandated neurological testing this morning.
"That's a new rule and we're working through it with Major League Baseball," Anthopoulos told the Toronto Star. "This is the first case, they even told us this is the first case they've had. So under further clarification, he's not forced to take the DL, he just had to pass tests mandated by Major League Baseball."
He has not passed those tests yet. The Blue Jays will have to send their reports to an MLB-certificed doctor for clearance before that can happen. Anthopoulos said he expects that to come next week.
For more baseball news, rumors and analysis, follow @cbssportsmlb on Twitter or subscribe to the RSS feed.