UPDATE: Ellis entered Thursday's game with the Blue Jays in the eighth inning. After the game he said he'll be able to fly with the A's tonight.
By C. Trent Rosecrans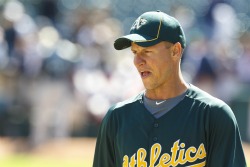 Anyone up for a road trip?
The A's are considering finding a ride for second baseman Mark Ellis to get from Toronto to Minnesota because it's unclear if he can fly with an inner ear problem that has kept him out of Thursday's lineup.
The drive would be, according to Google maps, around 16 hours, not including the stop for customs.
"That doesn't sound like a lot of fun," Ellis told MLB.com.
Ellis said he has a feeling of fullness in his left ear and is also suffering from dizziness. He went 0 for 4 in Wednesday's loss to the Blue Jays.
Ellis also said he feels "like a two-year-old missing a game because of an earache."
Andy LaRoche will start at second base for the A's after playing shortstop on Tuesday and third base on Wednesday. The A's have a charter flight from Toronto to Minnesota after Thursday afternoon's game.
For more baseball news, rumors and analysis, follow @cbssportsmlb on Twitter or subscribe to the RSS feed.