By C. Trent Rosecrans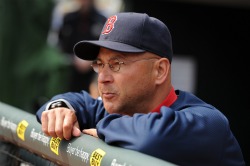 I don't know if Terry Francona is the superstitious sort, but if he is, he may not want the Red Sox to win today's game against the Indians. Why? Because he may have to repeat his breakfast from this morning.
When asked this morning about the team needing to "feed off" the Fenway crowd after dropping their first five games of the season on the road, Francona had fun with words:
"I think we need to feed off anything. I had 12 pieces of bacon this morning. I'm going to feed off that," Francona said, according to the Providence Journal.
When another reporter asked if he really had 12 pieces of bacon, Francona gave the entire menu.
"Yeah, and with a Five-Hour Energy chaser," Francona said. "Besides the stomachache, I actually don't feel that bad."
For more baseball news, rumors and analysis, follow @cbssportsmlb on Twitter or subscribe to the RSS feed.