By C. Trent Rosecrans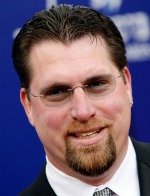 Stephen Strasburg has as good an arm as the big leagues have ever seen, but he also has a Little League dad, former MASN color analyst Rob Dibble said.
Granted, Dibble said something stupid last year when he said Strasburg to "suck it up" before it became known that the Nationals' right-hander would need Tommy John surgery and was subsequently ousted from the Nationals' broadcast booth -- but he's not backing down from those comments (that he previously backed down from), but more on that later.
Dibble said recently on a video interview with FoxSports.com that it was an e-mail from Strasburg's dad that got him kicked out of the MASN booth.
"It was basically Strasburg's father [who] e-mailed the owner and basically was offended by what I said," Dibble said in the interview (and transcribed by the D.C. Sports Bog). "Now remember, I said that on my own radio show on another network, and his father e-mailed the owner and the owner wanted me out of there. So that's the bottom line."
Dibble said he wasn't exactly fired -- that he's still being paid by MASN. He added that even though he said last year his comments were "inappropriate and disrespectful," he's backtracked on that, standing by his original comments -- not his backtrack.
"It had nothing to do with the game he got hurt in Philly. He had a sold-out game against the Braves, and the people I worked with at MSN were excellent, we followed his workout regimen -- which was fantastic," Dibble said. "His warm-up was fantastic. He didn't do any of that the day that he basically walked away from the Braves start, which was sold-out. And all the money that the Nationals were making per start on Strasburg was well over seven figures. So to me, you know what kid? You've got to suck it up."
Dibble still has a show for XM/Sirius, but don't expect Strasburg (or his dad) to appear on that show anytime soon.
For more baseball news, rumors and analysis, follow @cbssportsmlb on Twitter or subscribe to the RSS feed.