By Evan Brunell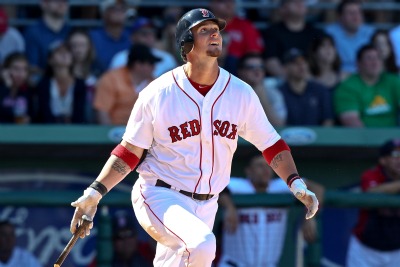 Jarrod Saltalamacchia has until June to prove himself, writes SI.com's Jon Heyman.
Salty got the season off to a rather poor start when he looked absolutely lost at the plate in the opening series against his former team in the Rangers. He went 0 for 10 with five strikeouts, although he would redeem himself slightly Tuesday by delivering an RBI single in the top of the second inning for his team's only run of the game. He also added a walk later in the game before being swapped out for a pinch-hitter. Longtime team captain Jason Varitek drew the start on Wednesday, as was expected.
The Red Sox have been adamant -- as adamant as one can be despite exploring other options -- all offseason about Salty getting an extended shot to start. Boston's certainly not going to reverse course based on four games of work. Skipper Terry Francona observed after the Rangers series that he felt Saltalamacchia was pressing too much and getting away from what made his spring training so successful.
One observation is just who the heck the club could replace Salty with in June if he's not working out. Jason Varitek is not a full-time catcher, so they would have to either shoehorn 'Tek into more playing time or call up Michael McKenry from Triple-A. McKenry was acquired from the Rockies at the end of spring training and could have a solid career ahead of him, but would Boston really leapfrog from one risk as a young catcher to another?
More likely, Boston would start scouring the trade market at that point to bring in someone external. While Ivan Rodriguez is certainly available, he wouldn't interest the Red Sox. It's not clear what catchers are on the trade block, but looking at catchers who will be free agents after the year always is a place to start.
Too bad the names are unexciting. Rod Barajas is the only one that may justify a starting spot for, and he's the primary catcher in Los Angeles. Ryan Doumit cannot field the position, and far too many of the rest are essentially backup types. If Chris Snyder can hop off the disabled list and produce in Pittsburgh, he may develop as an option. Another option is ex-Sox farmhand Kelly Shoppach, who has had a streaky career but when right, can swing a stick with the best of them. There's also Ramon Hernandez, who was the hero in Cincinnati on opening day but could be jettisoned to hand Ryan Hanigan, scorching hot, the full-time gig.
For more baseball news, rumors and analysis, follow @cbssportsmlb on Twitter or subscribe to the RSS feed.