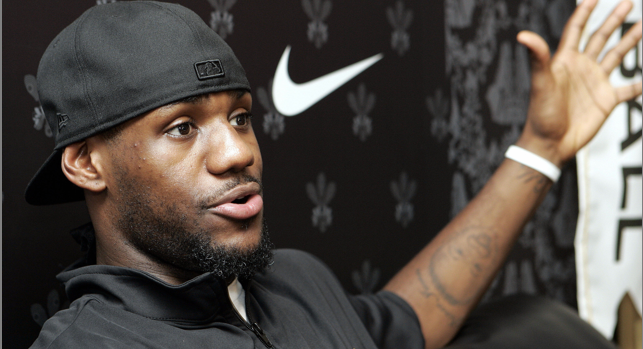 By Evan Brunell
LeBron James has partnered with Red Sox principal owner John Henry and CEO Tom Werner in a deal that makes James a minority owner of the Liverpool FC soccer club in England, one of the more storied franchises in Europe football history.
As part of the deal, James' sports-marketing firm titled LRMR will partner with the Fenway Sports Group, which is the business name given to the Red Sox ownership. As a result, FSG becomes the exclusive representative for James on a global scale.
This deal marks the first time a professional athlete has taken an ownership interest in a sizeable franchise, the Wall Street Journal reports.
"We're not interested in talent or athlete representation but we think he is one of the most remarkable athletes of his time," Werner said Tuesday. "We believe we can open doors for LeBron and LeBron can open doors for us."
James also spoke about the move, indicating he couldn't wait to visit Anfield, Liverpool's legendary stadium that is as iconic as Fenway Park is in Boston.
"The first time I stepped on an NBA court I became a businessman," James said. "This is a great opportunity for me."
James' high-school teammate, who is chief executive of LRMR, agreed, saying that partnering with FSG was necessary for them to delve into international business opportunities beyond common endorsement deals. Without FSG purchasing Liverpool, there is likely no marriage, but the global interests of the two sides were so common that it made sense for a partnership.
"These guys have unmatched skills when it come to marketing and selling on a global basis," Carter noted.
Over at Eye on Basketball, Royce Young had harsh words for James, and it's understandable. It's clear James wants to become a global business icon, not just be a basketball star. That can be frustrating for some, and some of James' own missteps are to blame:
In the report, LeBron said he felt "humbled" by the deal and even said he looked forward to visiting a game. LeBron also said that the first time he stepped on the floor in the NBA, he became a businessman. Which is again, one of the biggest problems people have with his approach. He sees it as a business and while we hear that all the time, to fans, it's about winning and losing.

That was the largest criticism of "The Decision." LeBron didn't seem to get it. He's locked into business decisions, not common sense ones. Of course I'm not saying this deal with Liverpool is in any way a bad thing, just more looking at LeBron's perspective of it.
How did this deal come about? Paul Wachter, a director of Time Warner who advised FSG on the initial purchase of the Red Sox, was also friendly with Carter and suggested the two sides should meet once FSG purchased Liverpool.
"One group was building a global powerhouse, and the other was looking to do things differently to really move the needle," Wachter said.
For more baseball news, rumors and analysis, follow @cbssportsmlb on Twitter or subscribe to the RSS feed.