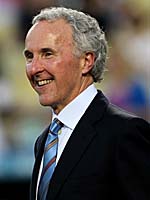 By Matt Snyder
There was a meeting Tuesday between some "high-ranking"
Dodgers
executives and Major League Baseball,
reports SI.com
. The meeting was reportedly an attempt by the Dodgers representatives to sell the MLB brass on the notion that a loan from FOX should be approved and used to keep Frank McCourt as the Dodgers' owner.
McCourt needs approximately $200 million to settle his messy divorce with wife Jamie, and reportedly has a potentially lucrative deal in place with FOX -- a $3 billion deal over the course of 20 years. The loan would be the first payment in this huge TV deal and could enable McCourt to keep the Dodgers.
On the other hand, MLB commissioner Bud Selig is reportedly a bit down on McCourt, due to several details that came out during the divorce trial -- including multiple mansions and severely overpaying members of his family with Dodger money.
McCourt needs the FOX deal to be able to buy out his wife Jamie, otherwise he can't afford to remain owner of the team. Of course, if he doesn't get the loan approved by Selig and Major League Baseball, he's out of luck anyway.
The entire situation remains pretty messy, and is clearly a black eye for the great Dodger organization. Fortunately there's an end in sight, as the divorce proceedings aren't expected to last much longer.
For more baseball news, rumors and analysis, follow @cbssportsmlb on Twitter or subscribe to the RSS feed.