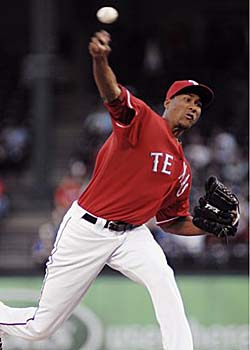 By Matt Snyder
One of my favorite things early in the season is when we get to the fourth and fifth games for each team -- because it's often the first look we get in the new campaign at a bevy of young starting pitchers. Whether the pitcher is making his debut, his first major-league start, or entering a season where he's expected to take a big step forward, it's always interesting to see how he fares. There were many on impressive display Tuesday. Let's take a look, remembering this snapshot excludes already-established stars like
Clayton Kershaw
and
Yovani Gallardo
(and obviously excludes stink-bomb outings like we saw from
Madison Bumgarner
and
Luke Hochevar
).
Andrew Cashner, Cubs.
He'd never made a major-league start until Tuesday and I still noticed scouting types on Twitter saying he's still best suited as a reliever, but Cashner looked
pretty solid before his injury
. A bullpen meltdown prevented him from getting the victory, but only three baserunners and one run were given up through 5 1/3 innings. Perhaps most impressive was his efficiency, as he only threw 72 pitches.
Josh Tomlin, Indians.
The 26-year-old is still a rookie despite making 12 starts last season and he handcuffed the
Red Sox
's vaunted offense. He worked seven innings, only giving up three hits and one run.
Mike Leake, Reds.
After a huge start -- one where he completely bypassed the minor leagues -- Leake finished 2010 by going 3-4 with a 6.47 ERA after the first week of June. He would have began this season in the minors had it not been for injuries to
Johnny Cueto
and
Homer Bailey
, in all likelihood. Tuesday, Leake came out and threw six innings, only letting the
Astros
collect three hits, two walks and two earned runs. He got the "W" as the Reds moved to 4-0.
Michael Pineda, Mariners.
Much discussion centered on if the Mariners should have let this prospect start the season in the majors, due to service time concerns. In terms of what he can do on the hill, there was no question he belonged. He showed it against a very potent Texas offense Tuesday. He took the loss, but threw six innings and held the
Rangers
to three earned runs. He struck out four, only walked one and showed his power pitching skills on several occasions. Keep an eye on this one.
Alexi Ogando, Rangers.
With much of the attention on his counterpart, Ogando went out and gave the Rangers six shutout innings. The 27-year-old had 44 outings last season, but this marked his first career start in the bigs. He's ticketed back to the bullpen when
Tommy Hunter
returns from injury, but string a few more of these together and it's a really problem in Texas.
Jhoulys Chacin, Rockies.
The 23-year-old has shown brief flashes of brilliance in his early career, but hasn't had the chance to turn national heads yet. Tuesday against the
Dodgers
-- a team which just took three of four from the defending champs -- Chacin tossed seven shutout innings. He struck out four and outdueled Clayton Kershaw.
For more baseball news, rumors and analysis, follow @cbssportsmlb on Twitter or subscribe to the RSS feed.