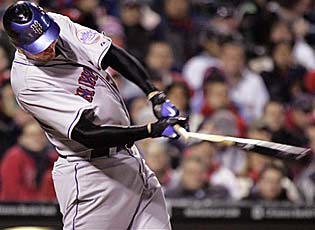 By Matt Snyder
When the rival
Phillies
and
Mets
were set to square off Tuesday night, the pitching matchup certainly seemed to favor the home team.
Cole Hamels
was taking the hill, and his counterpart was picked up by the Mets on a one-year bargain contract. It all went out the window rather quickly, though, due to someone taking over the spotlight and winning the game.
Just get the weird movie reference overwith and call him Mighty
Chris Young
.
Young looked solid on the hill, giving up only one run in 5 1/3 innings and striking out seven. But -- are you ready for this? -- he shined with the stick. The 6-foot-10 pitcher cracked three singles in as many trips, the second of which chased Hamels from the game in the third inning. Young also scored once and drove in a run.
And Young wasn't alone in terms of owning Hamels. The Phillies' lefty lasted just 2 2/3 innings, giving up seven hits and six earned runs to the Mets.
David Wright
also had a bit of fun for the Mets, going 4-5 with two runs, two RBI and a double.
I'm guessing the 3-1 tie atop the NL East standings is just as pretty to Mets fans as the 7-1 final score -- especially considering the enormous gap in expectations between the two teams entering the season.
But for one night, let us leave the deserving in the spotlight. It was Chris Young's world.
For more baseball news, rumors and analysis, follow @cbssportsmlb on Twitter or subscribe to the RSS feed.