By Evan Brunell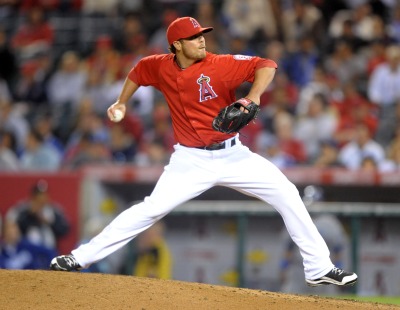 That certainly didn't take long. Just days into the season, Angels closer Fernando Rodney has lost his grip on the job as Bill Plunkett of the Orange County Register reports.
This came on the heels of a FOX Sports report that a scout felt Los Angeles should go with Walden. "He's the only guy they can rely on," the scout said, in an all-too-true evaluation of the sad state of the Angels' bullpen.
Rodney lost his job for ... well, doing what he's always done, which is struggle to find the strike zone. Boasting a career 4.7 BB/9, Rodney has walked four in just 1 1/3 innings so far on the season. Despite whiffing two, Rodney just does not work as a viable closer and the Angels were always kidding themselves that he could work out.
Walden, meanwhile, certainly can. Including the 2 1/3 innings on the season, he's whiffed 28 in 17 2/3 career innings with the 23-year-old making his debut last season. Walden does have eight walks so he's no Curt Schilling, but is loads better than Rodney. Last year in Double-A, Walden pitched 43 innings while striking out 38 and walking 22. However, in the majors, he's been nothing but on fire. Double-digit strikeout rates likely won't happen over the course of a full season, but Walden clearly has the stuff to last in the majors and may have taken a leap forward in his talent, so he could outproduce his minor-league numbers.
Even at his young age, to be considered the "only" guy L.A. can rely on speaks volumes of both himself and his cohorts around him. Hisanori Takahashi is really best used as a long man and it is unclear how he can adjust to the AL. Scott Downs, meanwhile, is injured and we all know about Rodney. Past that, it's a smattering of OK arms, although Kevin Jepsen does appear to be developing into a strong setup man.
For more baseball news, rumors and analysis, follow @cbssportsmlb on Twitter or subscribe to the RSS feed.