By Evan Brunell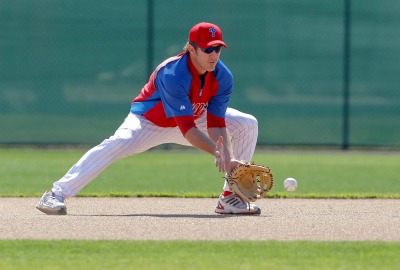 Chase Utley's return from patellar tendinitis is completely unknown to anyone, but he could be ready to start jogging soon as Ken Rosenthal of FOX Sports reports.
GM Ruben Amaro said it's possible Utley could start jogging within the next few days which would be a major leap forward.
If he starts running, that's a big step," Amaro said. "He hasn't even jogged. He's done some underwater stuff. But we haven't gotten him to run normal resistance. Once he does that, [his return] could happen fast. But it might take a while for him to get there."
Utley isn't standing around doing nothing despite his lack of jogging -- he's been taking batting practice and ground balls and is showing improvement across the board.
That said, don't expect a timetable to be established for Utley. First things first is actually being able to jog. Second will be full game-ready motion and then a rehab assignment. Still, the progress Utley has made so far has to be a positive given the doom-and-gloom possibilities that have been bandied about.
"I think we're going to get him back. It's just a matter of when," Amaro said. "We're willing to be very patient with him. I want him for July-August-September, hopefully October.
"If we stay in this thing, hold our own offensively, it's like making a trade, like getting a quality bat in the middle of the year. I don't have a whole lot of flexibility to do much of anything else."
No kidding, as the Phillies' $173 million payroll ranks second in all of baseball behind (who else?) the Mets. Even the Red Sox are behind Philadelphia in the No. 3 spot with a $161 million payroll. The Phillies have spread themselves thin and need Utley to come back strong to have a good chance of postseason success.
For more baseball news, rumors and analysis, follow @cbssportsmlb on Twitter or subscribe to the RSS feed.