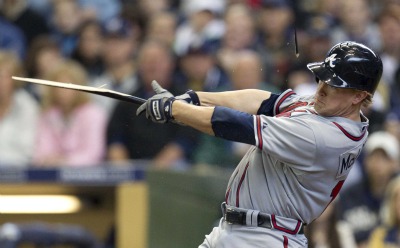 By Evan Brunell
One of the more curious decisions to start the year was Jason Heyward batting sixth in the lineup.
Given Heyward had an incredibly successful rookie campaign and is already considered one of the better hitters in the game, slotting him all the way down at sixth is odd, despite manager Fredi Gonzalez's claim he wants Heyward to get more RBI opportunities.
Part of the confusion is due to Nate McLouth's (pictured) presence in the two-hole. Yes, the guy who hit .190/.298/.322 in 288 putrid plate appearances last season. So why is he batting second?
"[McLouth] has swung the bat pretty good and you just hope he continues to do that out of the two-hole, because you need to have his speed at the top of the lineup, because it helps us to be able to manufacture runs," third baseman Chipper Jones said by way of an explanation, according to MLB.com. "He's a good bunter. So with [leadoff hitter Martin Prado] always on base, [McLouth] can be a threat to bunt, hit-and-run, double in the gap and hit for some power."
McLouth is coming off a strong spring training, and Gonzalez is a fan of the power and speed McLouth can bring to the top of the lineup. To be sure, if McLouth produces to what he did in 2008 (.276/.356/.497 with 23 stolen bases, 26 home runs and 46 doubles) but the Braves would even take 2009, where he finished with 20 blasts and 19 thefts with a .256/.352/.436 line.
Oh, and those successes came batting first or third in the lineup, which Gonzalez's has noticed.
"We're dealing with humans," Gonzalez said. "If Nate is swinging the bat and he's feeling good up there and he's comfortable, then why not? The Washington Nationals have the $158 million man [Jayson Werth] or whatever hitting second. That fits his team at this point, so why not?"
It's just me, but you want your best hitters in the first five spots without question, and the second spot is criminally underrated these days. It's actually an important linchpin in the lineup as it is both an RBI position thanks to the leadoff man and also a runs position as the batter needs to get on base to set up the power hitters. Either way, there's lots of pressure on the No. 2 hitter to perform.
Really, one of your three best hitters should be in the No. 2 spot. Given Heyward appears to be the best hitter on the team, he should be batting No. 2, regardless of how well McLouth can work out in the spot.
For more baseball news, rumors and analysis, follow @cbssportsmlb on Twitter or subscribe to the RSS feed.