By Evan Brunell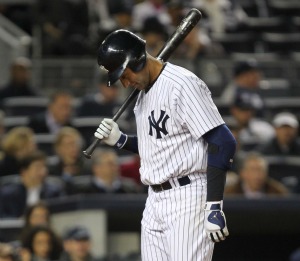 Well, that didn't last long.
After only a few games under his belt, Derek Jeter has decided to largely scrap the changes to his swing made over the offseason with the help of hitting coach Kevin Long. While Jeter isn't quite moving away from the stance, he is done worrying about the placement and location of his foot on every swing. He's simply going to go up there and do his thing, hopefully reversing a 2-for-14 start to the year.
"I just said the heck with it," Jeter told ESPN New York about constantly having the tweaks in his head. "I wasn't going to think about it. ... Before you're trying to think about where your foot is and you're trying not to move it, and it's just too much to think about. So [Monday] I tried not to."
Jeter went hitless again Monday, but reported he felt a lot better about his swing.
"I had some good swings. ... All I want to do is have good at-bats and hit some balls hard. [Monday] I was happy because one ball I hit hard down the right-field line and went foul, and then the one in my last at-bat to left field. So I'm making progress. That's the key."
Meanwhile, Jeter has looked like a decrepit shortstop in the field, which could be a real concern. However, that concern will come with time. Right now, all the focus is on Jeter's production at the plate. Can he return to his .300-hitting ways or is .270 his new level? Who knows, but his stance will be the talk of town.
"If he's not comfortable with [his new approach]," manager Joe Girardi said, "I can tell you one thing: Jeet's never going to let anybody know. That's just his personality. But he hit two balls hard tonight, and I thought he swung the bat well. So if he's not comfortable with it, I think he's getting more comfortable with it."
For more baseball news, rumors and analysis, follow @cbssportsmlb on Twitter or subscribe to the RSS feed.