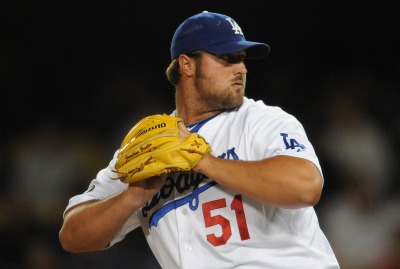 By Evan Brunell
Jonathan Broxton isn't concerned about the two home runs he's given up so far on the year.
Despite notching three saves already -- a dramatic turnaround from his forgettable 2010 season -- there's still plenty to worry about with Broxton, whose velocity still isn't up to previous highs. While it's far too early to draw any conclusions from the two home runs Broxton coughed up, you could excuse a Dodgers fan for fearing the worst. However, Broxton has never given up more than seven homers in a season ... and that was in 2006. Since 2008, he hasn't given up more than four home runs, so it's likely an aberration, not the norm.
Manager Don Mattingly felt as such, as he told the Los Angeles Times. "If he throws his good slider there, if he gets it where he wants, he gets [the batter] right there," Mattingly said about the Aaron Rowand home run. "He just didn't get it where he wanted. That's all right."
The one saving grace for Broxton coughing up the home runs is that they simply did not matter. The Dodgers had leads of multiple runs at the time of each homer. The one close game that required a save, Broxton netted a 1-2-3 inning. Broxton mentioned that the pace of the game, influenced by the lead, may have had something to do with it.
"You've got to go after him and try to get quick outs," he said. "I was trying to do it as quick as possible. Especially when you have a three-run lead, you don't want to be out there messing around."
Still, two things to watch for Broxton: his walk and strikeout rate. Broxton walked 28 batters unintentionally last season, his worst rate in full-time duty. This season, he has yet to walk a batter, but he only has one strikeout, which is a steep dropoff from double-digit strikeout rates per nine innings. Of course, small sample size reigns supreme here, so it's far too early to draw any conclusions based on three innings of data.
Still, the walks and strikeouts are what to watch for, not home runs.
For more baseball news, rumors and analysis, follow @cbssportsmlb on Twitter or subscribe to the RSS feed.