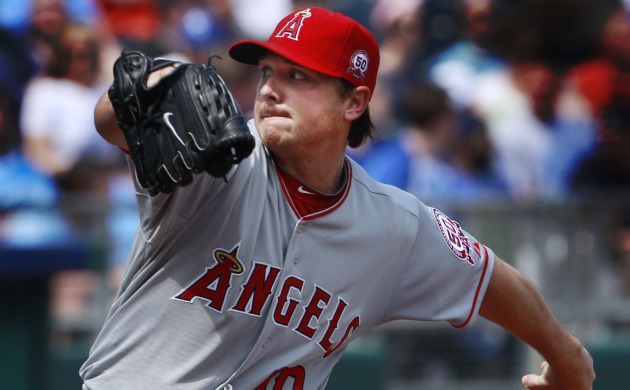 By Evan Brunell
Scott Kazmir's job could be in danger.
After going through what Kaz termed "boot camp" in the offseason, the hope was that the former top left-hander would move on from his 5.94 ERA from 2010, the highest among pitchers who tossed at least 140 innings. However, the former Rays ace had an awful spring training and imploded in his first start of the season on Sunday against the Royals.
Manager Mike Scioscia was already unhappy with Kazmir's progress, and his outing Sunday only made things worse. One has to seriously wonder if Los Angeles is considering releasing Kazmir and the $14.5 million left on his contract. It's certainly been a long fall from grace for Kazmir and unfortunately it appears as if whatever made him great in the past is gone for good.
The skipper had no easy answers for Kaz's slow start, saying that he has no velocity or command. "Kaz is a little more complicated, a little more baffling," he said. The Angels do have starting pitcher Joel Pineiro on the way back from injury along with reliever Scott Downs, so Kazmir could lose his rotation spot in quick order.
The only question is: is he moved to the bullpen or do the Angels cut ties entirely? (Los Angeles Times)
GOING YARD: Will Texas' Nelson Cruz go yard again on Tuesday to have homered in five consecutive games? That's a question Eye on Baseball blogger C. Trent Rosecrans attempts to answer in MLB Today. (CBS Sports)
PETE ROSE MANAGING: That's Junior, not the Hit King. The son of Pete Rose is now managing the White Sox's rookie-level squad after long stints as a minor-league and indy-ball player. (Chicago Sun-Times)
KID REPLACING IDOL: Over in Washington, Wilson Ramos has the tough task of replacing his idol behind the plate in Ivan Rodriguez. Pudge has graciously accepted a reduced role, while the Nats are excited about the potential Ramos has. (Washington Times)
TAKING NO LIP: The judge in the upcoming perjury trial for Roger Clemens has had enough of the Rocket and his accuser, Brian MacNamee, taking to the media to spread their own opinions of the trial. Judge Reggie Walton has since reminded the two that they are not allowed to talk about the case. (New York Times)
STEROIDS OUT: Brian Giles' potential use of steroids has been disallowed in a pending palimony trial against his ex-fiance, who is accusing him of owing her over $10 million as well as abusing her. His links to steroids would have been used to attempt to establish that he did, in fact, abuse her. (San Diego Union-Tribune)
BEER VIA TWITTER: A Mariners beer vendor may be onto something here as he will take beer orders via Twitter for the Mariners' home opener on Friday. Seems like it could be abused, but it's hard to imagine anyone sitting at home sending a beer vendor fake orders from fake seats, even in this day and age. This is definitely a service that could end up becoming common in all stadiums depending how well it is executed. (CNBC)
MORE RESTRICTIONS: In light of the abominable beating two Dodgers fans put on a Giants fan, the L.A. County supervisor is calling for additional security at Dodger Stadium as well as more restrictive limits on sales of booze. (Los Angeles Times)
THERE'S ALWAYS HOPE: Austin Kearns' son was diagnosed with autism at 14 months back in 2009. His son is doing well, however, receiving treatment at a Cleveland hospital that was also the main reason why the outfielder returned to the Indians after signing with the team for 2010 and being traded halfway through the year to the Yankees. (MLB.com)
ENTERTAINMENT VALUE: Of the potential bidders to become minority owner of the Mets, one has the executive producer of Entourage footing the bill. If Doug Ellin ended up with the team, it could mean a jolt of starpower as quite a few of the actors on the show are Mets fans and could show up to games. (New York Daily News)
FREEZE! A rather interesting story that Stan Musial actually froze his appendix inside his body back in 1947. This allowed Stan the Man to stay on the field and finish out the year before having an appendectomy after the year. You don't usually hear about frozen appendixes, so it's quite a fascinating story. (St. Louis Post-Dispatch)
SEVENTH INNING FOR JOBA: Joba Chamberlain appears to have a lock on the seventh-inning relief gig. 'We love the way he threw the ball in spring training," manager Joe Girardi said. Interesting given GM Brian Cashman and other Yankee brass were displeased with how out-of-shape Chamberlain was in spring training. (MLB.com)
IS BASEBALL DYING? Sobering news -- 43 percent of MLB fans are age 50 or older in a 2009 survey, tops among all big four sports plus MLS and NASCAR, while a low 28 percent of the coveted age 18-34 demographic prefer baseball. Plus, children are leaving baseball in droves. (BizofBaseball.com)
NAME THAT TEAM: The Cincinnati Reds' Double-A affiliate is moving into a new stadium in Pensacola, Fla. next season. There's a contest being held to determine the nickname of the club, and you must also include why you think it's a good name. (Pensacola News Journal)
NICKNAMIN': Ever wonder how each baseball team got its nickname? All set. (Delaware County Daily Times)
ON THE WAY BACK: Mat Latos tossed a simulated game on Monday and came through it with flying colors. He will be re-evaluated Tuesday, and it's possible the right-hander could be activated as soon as Friday. (San Diego Union-Tribune)
For more baseball news, rumors and analysis, follow @cbssportsmlb on Twitter or subscribe to the RSS feed.