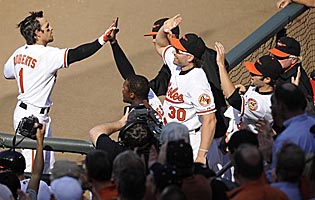 By Matt Snyder
The Baltimore
Orioles
are 4-0 for the first time since 1997.
You know what else they haven't done since 1997? Make the playoffs.
Now, let's avoid alerting the small sample size police. There are 158 games left, which is 97.5 percent of the season. It's just that Orioles fans haven't had this much to be excited about in a long time. Not only has it been since '97 for a playoff appearance, but the Orioles have finished in either fourth or fifth place in the AL East every year since then except 2004, when the O's came in third. They've finished last in each of the past three seasons and haven't won 70 games since 2006.
It's not just the four wins that should have people excited, either. It's a combination of many factors.
Consider the Orioles were 34-23 under Buck Showalter last season. Also consider they have outscored opponents 17-4 thus far. That's right, just a 1.00 ERA for the entire staff, one that has gone through injuries and reshuffling already.
Vladimir Guerrero
and
Adam Jones
haven't started hitting yet -- and you'd expect they will.
Brian Roberts
appears healthy and is swinging for power, while
Matt Wieters
is off to a hot start -- which is paramount in confidence-building for a young hitter. The defense has only committed one error. Best of all, the Orioles have beaten two very capable teams in the
Rays
and the
Tigers
.
The Orioles have sprinted out of the gate for a marathon of a season, but it would be pretty hard to blame Baltimore for getting excited about the exceptional start by its Orioles.
For more baseball news, rumors and analysis, follow @cbssportsmlb on Twitter or subscribe to the RSS feed.