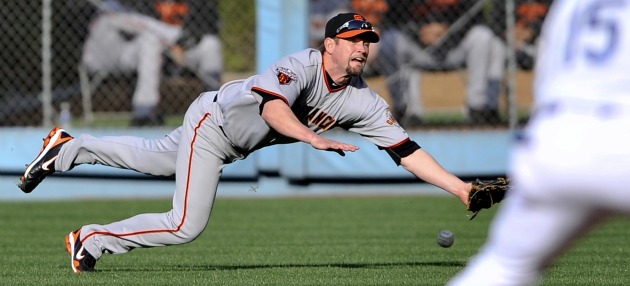 By C. Trent Rosecrans
Sunday afternoon the sight of Aubrey Huff diving in right field was a joking matter. The night before he made a diving catch and then before batting practice his teammates put a faux-chalk outline of his dive in the Dodger Stadium grass.
A couple of hours later, it wasn't so funny.
In the first inning on Sunday, Huff dove on a Jamey Carroll liner which ended up a triple and helped the Dodgers score three in the inning. In the seventh inning, Huff also lost a ball over his head by Marcus Thames, good for another triple and driving in the go-ahead run.
One scout told CBSSports.com senior writer Danny Knobler that the Giants defense is "going to be an issue."
The Giants made their decision leaving camp that their defense would be secondary to scoring runs, as the team kept rookie first baseman Brandon Belt on the roster -- and it's not Belt that's the problem, he's a good defender. It's that in order to keep Huff and Belt in the lineup, Huff went to right field. And as right fielder's go, he's showing he's a first baseman.
I don't actually fault Huff, he's going out there and giving it his best and doing what the team asks him to do -- ultimately, it's just a flawed strategy putting Huff in the outfield. When Cody Ross is ready to come off the disabled list -- which is still at least two weeks away -- the Giants will be better at that spot, but they'll also have a decision between Belt and Huff -- or benching Pat Burrell and keeping Huff in the outfield. That said, the Giants will still have Miguel Tejada at shortstop.
But it's not just the Giants that are struggling defensively.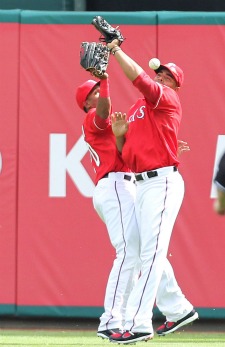 The Giants' World Series opponents last fall started off their season with a fielding error on the first batter of the season when Julio Borbon ran into Nelson Cruz.
The Cardinals seemed to be one team unconcerned about defense this offseason and could be concerned as the season goes along. The team added 35-year-old Lance Berkman, who hadn't played in the outfield since since 2007, to play every day in right field and got rid of one of baseball's best defensive shortstops, Brendan Ryan, and replaced him with an average second baseman in Ryan Theriot.
Theriot is the only National League player with two errors through Sunday's game, while in the American League one notoriously bad fielder (Toronto's Edwin Encarnacion) and one remarkably good fielder (Oakland's Daric Barton) have three errors each.
There have been 68 errors this season through 46 games (following Sunday's games). That's only one more error than there was through 46 games last season (and 15 more than there was through 46 games in 2009).
That said, we all know errors aren't the best way to measure defense, there are plenty of examples of bad defense that didn't include an error in the boxscore.
On Sunday, the Cubs' defense let down closer Carlos Marmol. With one out and runners at second and third, Pedro Alvarez hit a dribbler to shortstop Starlin Castro who unloaded a bad throw to first, allowing two runs to score and the Pirates to get the win.
Milwaukee's Casey McGehee has had two costly decisions in the team's sweep at the hands of the Reds. In the ninth inning of Thursday's opener, McGehee failed to tag Brandon Phillips going to third, setting up the Reds' walk-off victory. On Sunday, McGehee went home and failed to get an out on a Drew Stubbs chopper, which led to a game-turned three-run homer by Phillips in the fourth. And that's two entire instances of the Brewers' bad defense without mentioning Yuniesky Betancourt, who the team had to take to get Zack Greinke, but didn't have to make their everyday shortstop. According to John Dewan's +/- system, no defensive player in baseball has cost their team more runs over the last three seasons than Betancourt's -66.
David Pinto over at Baseball Musings noted BABIP (batting average on balls in play) over the first weekend was .300, while it was .291 last season. That stat tells you a ball in the field was more likely to be fielded a year ago than it was this weekend.
Now, we're just 47 games into the 2011 season, so it's way too early to make any real conclusions about errors and defense as a whole, but it is something to watch.
For more baseball news, rumors and analysis, follow @cbssportsmlb on Twitter or subscribe to the RSS feed.