By C. Trent Rosecrans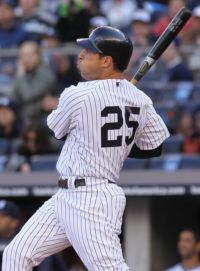 3UP
Mark Teixeira, Yankees -- Mark Teixeira is a notorious slow starter, but as CBSSports.com senior writer Scott Miller found out this spring, the Yankees first baseman overhauled his offseason routine and started hitting sooner. It appears it worked -- he homered for the third straight game on Sunday, joing Dave Winfield as just the second Yankee to homer in the first three games of the season. Speaking of homers in each of the first three games of the season, Texas' Nelson Cruz and Ian Kinsler became the first set of teammates to do that.
Jaime Garcia, Cardinals -- There were plenty of people worried about Garcia following a shaky spring. Well, once the games started to count, Garcia was back to his 2010 form. Garcia allowed just four hits in his shutout on Sunday, walking two and striking out a career-high nine against the Padres.
Reds catchers -- You saw what Ramon Hernandez did on opening day, well, he hasn't played since and it hasn't hurt the Reds. Between Hernandez and Ryan Hanigan, Reds catchers are 9 for 12 with three home runs and seven RBI after Hanigan went 4 for 4 with a pair of homers on Sunday's 12-3 victory over Milwaukee.
3DOWN
MLB schedule makers -- Weather was a constant concern this opening weekend, but only one game was called because of the weather, Sunday's Rockies-Diamondbacks game. How difficult is it to look at the schedules and figure out that you've got a better chance of bad weather in Denver in early April than in Arizona? Ozzie Guillen was right, it's "very stupid."
Brian Broderick, Nationals -- In his major-league debut, the Rule 5 pick not only allowed four runs on two hits and a walk in two-thirds of an inning, he also balked in a run when his cleat got caught in the rubber and didn't throw the ball. "I was either going to throw it way over the catcher's head or not throw it at all," Broderick told MASNSports.com.
Angels bullpen -- For the third day in a row, the Angels' bullpen gave up the lead and took the loss against the Royals. In 16 innings in four games, Angels relievers have allowed 19 hits, 12 runs (nine earned) five homers, 13 walks and 14 strikeouts. Closer Fernando Rodney walked three Royals before allowing a two-out double to Wilson Betimit to tie the game in the ninth on Sunday. Rodney has now walked four of the nine batters he's faced in 2011.
For more baseball news, rumors and analysis, follow @cbssportsmlb on Twitter or subscribe to the RSS feed.