By C. Trent Rosecrans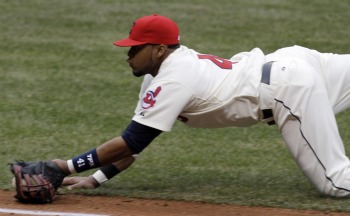 Carlos Santana got his first start at first base on Sunday and he already has a highlight-reel for the ages -- turning a triple play in the fourth inning of Sunday's game against the White Sox.
With runners on first and second and no outs, Chicago's Alexi Ramirez tried to lay down a bunt, but hit more of a short liner. Santana, charging in from first, dove to make the catch and then doubled up the runner by throwing to a covering Orlando Cabrera to force A.J. Pierzynski at first. Cabrera then went to shortstop Asdrubal Cabrera to triple up Carlos Quentin.
It was the Indians' first triple play since 2008 against the Blue Jays, when Asdrubal Cabrera had an unassisted triple play as a second baseman.
The White Sox hadn't hit into a triple play since 1978, when the Blue Jays tripled up the White Sox.
Video of the play can be seen here.
Santana was 2 for 4 at the plate, as well, in a 7-1 Indians victory.
For more baseball news, rumors and analysis, follow @cbssportsmlb on Twitter or subscribe to the RSS feed.