By Evan Brunell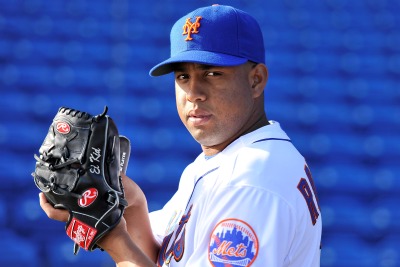 Franciscio Rodriguez's $17.5 million option will vest if he finishes 55 games, something the Mets want to avoid if at all possible.
Yes, K-Rod is a very good closer, but $17.5 million is simply an asinine number. The problem is how to skirt the issue without drawing the ire of Rodriguez, his agent and the player's union. After all, they can't expect Rodriguez to flip out on another girlfriend's father, right? ... Right?
The longtime Angel topped 55 games finished each season from 2005-2009 and finished at 46 last season. He would have cracked 55 if not for being suspended after the altercation with his ex-girlfriend's father.
One thing that could break New York's way is calling it a change in philosophy after a new manager and front office has been installed. Despite his consecutive streak of games finished, he only has two years of games finished significantly higher than 55, coming in 2008 and 2009. K-Rod saved an incredible 62 games in '08, so quite obviously finished over 60 games -- 69 to be exact. He would also have 66 in his first season as a Met, but the three years prior to that only saw 58, 58 and 55 games finished, respectively. That's a mere handful of games that the club can avoid to stay under 55. The expectation of the Mets to hover around .500 will also work in New York's favor, as it's less wins that require saving.
Manager Terry Collins, for his part, plans to speak to Rodriguez Sunday about how he will be used this season, as MLB.com reports. While Rodriguez will get the call in games where there is a save at stake, the main issue is when there is not. Most closers tend to get work in non-save situations at the end of games, which counts as a game finished. But Collins is hoping to avoid that and has an excuse at the ready.
"I'm not going to let him go out there just to pitch an inning and jeopardize the game when I'm going to need him the next day," Collins said.
It's a fair excuse and it should fly -- why should Collins get K-Rod work in a non-save situation when he might be needed for a save? But as every team knows, circumstances don't always line up perfectly, and there may be a day where Rodriguez simply needs to get work in, period. That will prove Collins' tough test. The best way to approach it may be to pitch Rodriguez in the eighth inning of a blowout, then have a worse reliever finish it off. But even that will be viewed as skirting the issue. It'll be an interesting subplot to watch as the season winds on.
For more baseball news, rumors and analysis, follow @cbssportsmlb on Twitter or subscribe to the RSS feed.