By Evan Brunell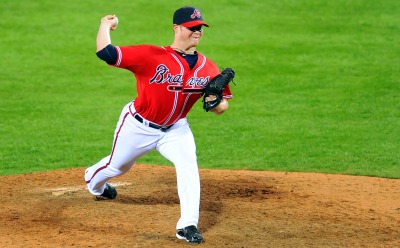 On opening day, the Braves led the Nationals 2-0 heading into the eighth inning. With three right-handers slated to come up followed by two lefties with a righty sandwiched in between, it seemed obvious that Craig Kimbrel would handle the eighth with Johnny Venters closing the door in the ninth.
Except the exact opposite happened, leaving many wondering what had happened to the two-headed closer combination Atlanta was planning on using.
Fredi Gonzalez clarified the situation Saturday, leaving no doubt that Kimbrel is the closer of record without outright saying it.
"Talking to Roger [McDowell] on the way to the game [Thursday], he said, 'Let's just go with Kimbrel,'" Gonzalez told the Atlanta Journal-Constitution. "We decided, let's give the kid a chance. For me, they both have good stuff and can get guys out from both sides."
Kimbrel was long considered the favorite to emerge as closer, so this is no surprise. While any team would love to have Venters at the end of the game, the Braves seem to really have something special in Kimbrel, who whiffed a staggering 40 batters last season in just 20 2/3 innings. However, the 22-year-old won't be the full-time closer as Gonzalez plans to work Venters into some tight games.
"If we get in a situation where we've used Kimbrel a couple of games in a row -- I don't foresee using either of those guys more than two days in a row, first thing in April," Gonzalez said. "So hopefully you get today and tomorrow [against the Nationals] with Kimbrel, say, then give Johnny Milwaukee [on Monday] and give Kimbrel a day [to rest]."
Gonzalez said he does not believe in relievers being used more than two days in a row in April, especially younger guys. That opens the door for Venters to be the junior member of the co-closer role, although it would not be surprising to see Kimbrel morph into a more traditional closer as the season wears on.
It's tough to blame Gonzalez for going with Kimbrel, but it continues to be unfortunate how many teams continue to hem themselves into a closer. There is no other statistic in baseball that created such a seismic shift in the game than saves. Closers as we know them today are solely because of the save statistic that was created, not necessarily because it's the right way to deploy relievers. Atlanta seemed to have a prime opportunity to bust the closer mold, especially with two elite, young relievers pitching with opposite hands that could be deployed in more strategic situations.
For more baseball news, rumors and analysis, follow @cbssportsmlb on Twitter or subscribe to the RSS feed.