By Evan Brunell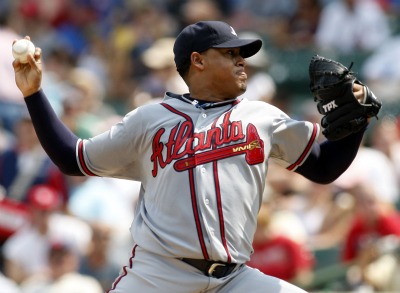 "This is a list I really didn't want to see this year," Braves starting pitcher Jair Jurrjens said Saturday, referring to the disabled list.
Unfortunately for Jurrjens, who landed on the disabled list for 61 days last year thanks to a left hamstring strain, the right-hander is headed back to the DL with a cramp in his right side.
Jurrjens was slated to start Wednesday against the Brewers, but instead will line up to start as early as next Saturday against the Phillies. While there is an off-day on April 11 that would allow the Braves to push him back until April 16 at the latest, Jurrjens isn't interested in that.
"It would be really exciting to face [Philadelphia], especially having all the hype they have, especially at home too," Jurrjens told the Atlanta Journal-Constitution. "That's a game I don't want to miss. I don't care about Milwaukee; the Phillies I really don't want to miss them."
Jurrjens will first need to pitch in a minor-league game on Tuesday before he is cleared for major-league duty. He'll throw a second bullpen on Sunday before the team decides what to do. There is still a shot Jurrjens doesn't hit the disabled list, but that probability is low. Mike Minor is expected to be called up for the Wednesday start, although the lefty will head back to the minors after to make way for Jurrjens.
"Things happen, I understand that part," Jurrjens said after expressing frustration at going on the DL. "I understand they're trying to be careful too. We don't want to have this linger for the whole season and maybe let me lose more than a couple of days…I'm just ready to start showing people what you work for and you're healthy again."
For more baseball news, rumors and analysis, follow @cbssportsmlb on Twitter or subscribe to the RSS feed.