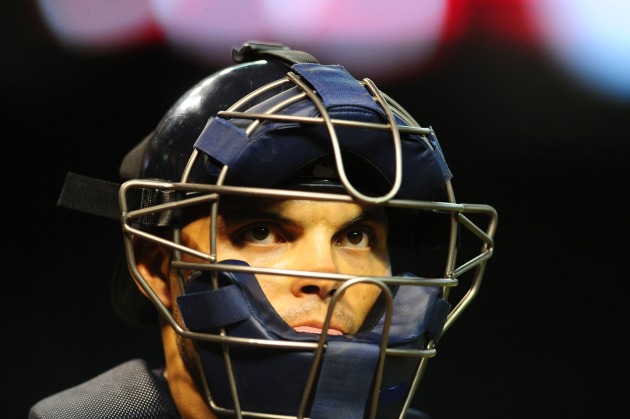 By Evan Brunell
Although Ivan Rodriguez drew the start on Opening Day, manager Jim Riggleman admitted that the eventual Hall of Famer would split time evenly with Wilson Ramos to start.
"I think we literally kind of have two No. 1's there," Riggleman told CSNWashington.com. "Right now, I think we're going to move towards that."
At I-Rod's stage in his career, he best profiles as a platoon or part-time catcher, as he can't really justify a full-time role anymore with a disappearing bat. However, the 39 year old still hopes to play three or four more years in his quest for 3,000 hits (he is 183 hits away). And in what is a mild surprise, Pudge is completely accepting of a transition to a backup role and is willing to step aside for Ramos, the future behind the dish for Washington.
"He's the future of our ballclub," Rodriguez said, who figures to lose more and more playing time to Ramos as the season goes on. "I'm here to work with him. I don't have no problem with that. ... The most important thing for me is to help the ballclub."
Riggleman noted that his conversation with Rodriguez about the new situation was "one of the best conversations I've ever had with a ballplayer since I've been managing."
Although Rodriguez is willing to give way to Ramos behind the plate and serve as a mentor, he feels he still has plenty to offer.
"There's still a lot of baseball in me," he noted. "I feel like I can help this team in so many ways: in the field, off the field, with my teammates. ... I would like to finish here. That's my goal, to stay here and accomplish my goals I want to accomplish: be in another playoffs, another World Series and reach 3,000 hits."
It's unclear whether Washington has interest in bringing Rodriguez back after the season given Jesus Flores and Derek Norris are in the minors and will be knocking on the door fairly shortly. Even if Rodriguez doesn't return in Washington, however, he shouldn't have much difficulty finding a backup spot now that he's indicated a willingness to play in that role.
Don't be surprised to see him on the move this summer, though. The Nationals aren't going anywhere and can benefit from trading Rodriguez. The Houston Astros, who are desperate for a catcher, could be a fit later this season. First things first, Ramos needs to show he can produce.
"I'm very excited for this opportunity," Ramos said. "I was waiting for this. I will learn with Pudge, he's going to teach me a lot. I want to learn with him so I will try to do the best I can."
For more baseball news, rumors and analysis, follow @cbssportsmlb on Twitter or subscribe to the RSS feed.