By Evan Brunell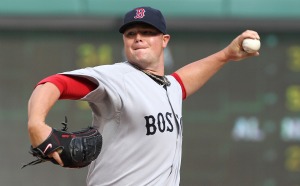 Jon Lester must really hate April.
Lester coughed up five earned runs over 5 1/3 innings Friday afternoon as the Red Sox fell to the Rangers by a 9-5 score. He gave up three home runs for the first time in his career and didn't register a strikeout for just the second time ever. Odd coming from someone with back-to-back 225-whiff seasons.
While Lester didn't draw the loss -- Daniel Bard did after coughing up four runs in the eighth -- he still walks away with an 8.44 ERA after the outing and continues a disturbing trend.
Over Lester's career, he has a 4.76 ERA in 17 April starts, which is easily his worst mark and is only approached by August in terms of futility with a 4.60 mark. Every other month does not top 3.42 and two -- June and September -- have marks under 3.00.
And yet that doesn't tell the whole story, because the primary culprit for Lester's poor August numbers come from 2006, his first full season in the majors. Lester made four starts in June for a 2.95 ERA, six in July with a 3.82 mark and then the wheels fell off in August with five starts and a 7.66 ERA. Lester would then be diagnosed with cancer, so these August starts in 2006 should be taken with a heavy dose of salt as he has not exhibited struggles in August since.
That leaves April. And given that the highest ERA month outside of April and August is May at 3.42, that tells you Lester still struggles into May.
"Every year I tell myself it's not going to happen, and it still does," Lester told the Boston Globe before coughing up seven runs to the Rays April 18 of last season. "If I had an answer, I would try and fix it."
Lately, Lester has come to believe that repetition and getting into a rhythm are key to avoiding his April struggles.
"Once you're able to repeat everything and get a base for it, that's when you get on that roll in the middle of the season," the lefty told the Providence Journal in February. "People always wonder why pitchers don't do well at the beginning of the season. Well, you're still building. You can only do so much with what your body allows you to do. You're playing games that mean something for the first time. You've got to continue to build. It takes CC [Sabathia] until June, and he's unbeatable from then on. Everybody is different. Everybody has different bodies and they work differently. You just have to do what the game gives you."
Lester cited Sabathia as another example of someone who needs time to get going, except his overall numbers don't bear that out as much. Sabathia's highest ERA does come in April with a 4.35 ERA in 44 starts, but May's .46 is the lowest outside of August and September, while July nears April at 4.33. Sabathia did struggle greatly in May last season, which could color Lester's perspective.
Lester wasn't too concerned after his start, choosing to brush it off and move on, but as a trendy pick to win the Cy Young, he can't afford the April struggles to last as long as they have in the past if he wants a real chance at the hardware.
For more baseball news, rumors and analysis, follow @cbssportsmlb on Twitter or subscribe to the RSS feed.