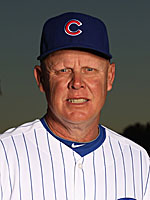 By Matt Snyder
New
Cubs
manager Mike Quade might have a high-profile job, but he's content to ride the CTA Red Line -- aka the "El," as it's known in Chicago, short for being an elevated train -- to Wrigley Field for work. He even went without being recognized, though that may have been some of his own doing.
"It's kind of fun to get on the train and walk to the ballpark incognito, with a hat on and stuff, and feel the excitement," Quade said. (via
Chicago Tribune
) "I managed to do it for the last two days. I'm pretty good. Hey, look, with a face like this, you could put makeup on, you could do all sorts of stuff. I can put wigs on, anything I want. I can throw a hat and jacket on and sit back in the back of the train and do what I do. Keep my head down."
Even if Quade wasn't trying to hide, the only thing that would likely help people notice him is his bald head. As a related aside, I've noticed some people across the 'net say Quade shaves his head. That isn't true. He was diagnosed with alopecia areata at age three and hasn't had hair for the majority of his life.
Anyway, Quade will eventually settle into his home two blocks from Wrigley, so he'll probably walk to the ballpark from there -- no word on if he'll do so in disguise or just as is. It probably depends upon how the team fares in his first season as skipper.
The Cubs open to lukewarm expectations Friday at home against the
Pirates
. It will be his first game as a full-time, major-league manager. He started his coaching career in 1985 in the minor leagues and progressively worked all the way up since then. Thus, it's no surprise he's perfectly content riding the train with everyone else. He is everyman.
For more baseball news, rumors and analysis, follow @cbssportsmlb on Twitter or subscribe to the RSS feed.