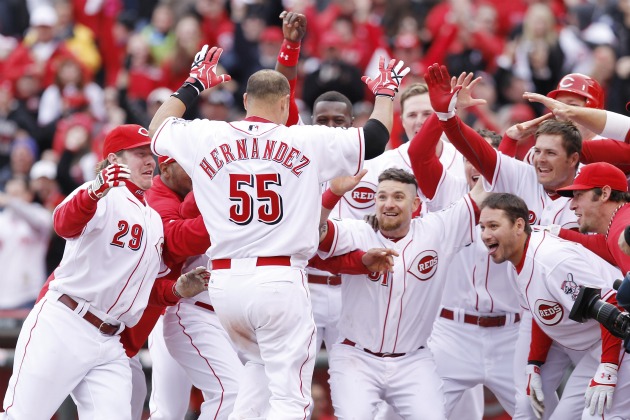 By C. Trent Rosecrans
CINCINNATI --
Ramon Hernandez
didn't expect to hit the game-winning homer -- even after it left his bat. All he was thinking was he wasn't making the last out.
He didn't, his three-run homer off of
Brewers
closer
John Axford
gave the
Reds
a 7-6 win on opening day, capping a four-run ninth inning for the defending National League Central champions.
"I have no clue how I hit it out, to be honest," Hernandez said after his 334-foot home run landed in the Brewers bullpen in right field of Great American Ball Park.
But he knew how he got there -- with help from his teammates, and Brewers third baseman
Casey McGehee
.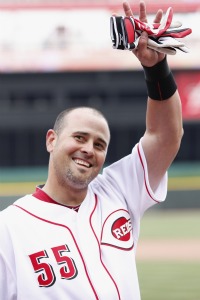 "It took a three-run homer to win it, but you can't hit a three-run homer with nobody on," Reds left fielder
Jonny Gomes
said.
It was what led up to that homer that typified why the Reds led the National League in runs scored a year ago en route to their division title -- hustle and good at-bats.
The inning started with a
Brandon Phillips
single, which was followed by
Joey Votto
working a walk. With two on and still no outs,
Scott Rolen
hit a slow grounder to third, where McGehee fielded it and tried to tag Phillips going to third.
"I thought he was going to go to second, but when I saw him reach out with the glove, that's when I went into my Matrix mode and got out of the way," Phillips said.
McGehee felt he pushed Phillips far enough out of the baseline to get the out before throwing to first, where Rolen beat out the throw. Third-base umpire Dan Bellino ruled Phillips safe at third.
Rolen joked that he was thinking double out of the box, but then said he was just trying to get down the line fast enough not to be doubled up. When he looked up, he saw bases loaded.
After
Jay Bruce
struck out, Gomes was trying to avoid a game-ending double play and nearly ended the game in a different way, by hitting it over the wall. However, his liner went to the deepest part of the park for a sacrifice fly, scoring Phillips and brining up Hernandez.
"You saw two great hustle plays with Brandon and Scott in the same play," Gomes said. "What you're trying to do there, is extend the inning and not give up outs.
"That's what we did. When you start with a positive note, it's contagious and you're almost a goat if you don't do that. When you're not hustling to first, when you're not avoiding tags, you're the goat. It's a special group of guys here."
With an 0-1 count, Axford's 93 mph fastball stayed up and got over the plate. Hernandez crushed it, watching it and raising his hands in celebration before he even reached first base, while manager Dusty Baker danced what appeared to be a jig in the dugout.
"When you have all your teammates waiting for you because you just won a ballgame, it's one of the best feelings you can ever feel," said Hernandez, whose homer capped a four-hit day. "Celebrating with your teammates is the best part."
It's something the Reds have plenty of practice at. Last year they were second in the big leagues with 45 come-from-behind wins and tied for second with 22 wins in their last at-bat, including Bruce's walk-off, division-clincher last September.
Shortstop
Paul Janish
, who along with starter
Edinson Volquez
were the only different starters from last year's opening day lineup, called the hitting "infectious."
Rolen called it "good baseball," while
Drew Stubbs
called it "magic."
Whatever it was, it was fun.