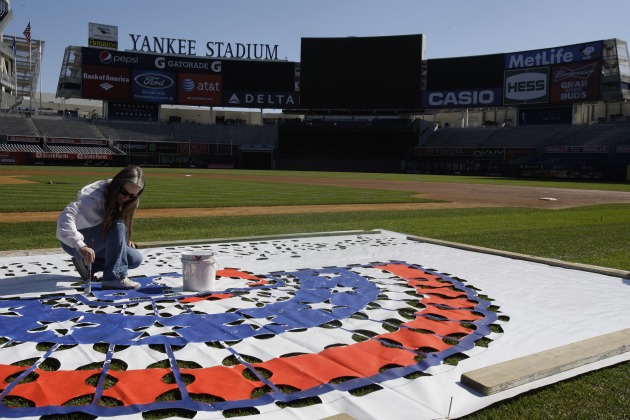 By C. Trent Rosecrans
No day in the year probably evokes as many cliches as opening day. Several times today you'll hear of hope and optimism and that's total crap.
There's no reason for the Pirates fans or Astros fans or Royals fans to think 2011 will be any different than 2010. But the thing is, the beauty of the baseball season isn't that every team has a chance. It's that there are 162 games and no matter how bad the team, they'll still win three times out of every eight games.
Even watching the Mariners for 162 this season, you'll still have walk-off wins, reasons for hope, shutouts thrown, home runs hit and a whole lot of baseball. It's a beautiful thing.
And then there's a team that you don't think has a chance that somehow stays atop the standings. Sure, they may not win it all, or even make the playoffs, like the Padres last season. But they still bring some excitement and reasons to watch through August and September. The ride isn't half the fun, it's all the fun.
Even without a spot at the top of the standings, there's a reason to go to the ballpark -- heck, going to the ballpark is reason enough. A hot dog, a beer and an afternoon game in the bleachers? Heaven, even if two also-rans are on the field.
Then there's rookies to watch and dream about their potential or the veteran to remember him in his prime.
Yeah, baseball is full of the cheesy cliches, but that's another part of the fun. I'm cheesy about the start of baseball season and I just don't care. (Of course, this is coming from someone who spent the last minutes leading up to a NCAA National Championship game back in the media room watching a Royals opener on TV right up until tipoff when I reluctantly went to my courtside seat to the game, so I may be a little messed up in the head.)
TENSION: Imagine going into the last day of the exhibition season unsure of your fate and then throwing a pickoff move into right field with two outs and a 1-0 lead in the ninth inning that leads to the losing runs. That can't feel good.
And then, well, being called into the manager's office right before the final cuts are announced. Really, really not good.
Except, after A's manager Bob Geren went over Bobby Cramer's gaffe, he then congratulated him on making the team.
Cramer, a 10-year minor league veteran, made his first opening day roster and will be the A's long reliever. (San Francisco Chronicle)
TICKETS AVAILABLE: The guys who brought you last year's Mets help wanted video with not-John Ricco, are back trying to sell Mets opening day tickets.
While not as good as their last Mets video, it's still pretty good.
MO BETTER: We know Mariano Rivera has been really good for a really long time, but check out his run as the Yankees' closer against all the other closers since he took over in New York in this great graphic from the Washington Post.
HOPEFUL HAPP: Astros lefty J.A. Happ still hopes to get back to pitch on his turn in the team's rotation, Sunday against the Phillies. The former Phillie, Happ, would be facing former Astro, Roy Oswalt in the final game of the opening series. (Houston Chronicle)
VIVA ANAHEIM: I think I've already named about three "best promo ever" winners, but this is my current favorite -- the Angels' Mexican wrestler mask. I so wish I could be in SoCal in May, instead I'll be in Ireland. Oh well. (Orange County Register)
MEET THE METS: The Mets are trying to embrace their blogging community and hosted a conference call with manager Terry Collins on Monday. (Networked Blogs)
BURNETT SICK: Yankees starter A.J. Burnett is dealing with the flu, but says he still expects to make his scheduled start on Saturday. (New York Daily News)
BASEBALL HEALING: I lived in Japan for a couple of years and I've told people many times about the high school baseball tournament and the best way I've been able to describe it is the NCAA basketball tournament -- but only better, because it's baseball. It's even more important this year. (Associated Press)
PIRATES LIKELY TO BEAT PREDICTION: Pittsburgh Tribune-Review columnist Joe Starkey doesn't have high hopes for the Pirates this season. That's understandable. That said, I think they'll do better than his 9-153 perdecition.
TATER TROT RETURNS: Larry Granillo is bring back the Tater Trot Tracker. For those of you who missed it last year, the blogger tracked the time of every home run trot i the majors last season. He's doing the tracker for Baseball Prospectus this year, check out what he learned last season.
UNIWATCH: The always awesome Uniwatch baseball preview. There aren't too many changes this year, except for the Dodger throwbacks and the end of the Blue Jays' powder blues.
SAFETY FIRST: MLB is taking steps to help protect players against concussions, but the players can choose to do more, and Justin Morneau is doing that. Morneau will wear the Rawlings S100 helmet this year. The oversized helmet offers more protection for a batter's head, but is the subject of ridicule by other players and fans. Some players, such as David Wright, have worn it briefly only to go back to a regular helmet after hearing the jokes. Morneau apparently doesn't think concussions are funny, and he's right. (St. Paul Pioneer Press)
BACKPEDDLING: Andre Either's agent says he'd love to stay in Los Angeles long-term. Of course he would. (Los Angeles Times)
AN APPLE A DAY: One of the most injured teams last season, the Red Sox are hoping prevention can help them beat injuries. (Boston Globe)
EXPRESS LINE: Putting aside the vogue bigger, badder, fatter concessions, two minor league clubs -- Richmond and Lehigh Valley -- are going with faster, allowing you to use your smartphone to preorder and pay for your concessions. (Ben's Biz Blog)
PREVIEW: Stephen Strasburg and Bryce Harper were on display at NatsFest at Nationals Park. Strasburg said he's hoping to start opening day 2012 for the Nats. Harper said his ankle is fine, even though there's still concern he may miss his minor league team's April 7 opener. (Washington Post)
SPEAKING OF PROSPECTS: The Kansas City Star's baseball preview section is mostly about the Royals of 2012 and beyond, instead of this year's team. Bob Dutton asks if the Royals' influx of talent means Kansas City can return to its winning ways of the 70s and 80s. And then Tod Palmer looks at how it could go wrong -- like the Pirates of the late 90s.
REMEMBERING THE DUKE: The Dodgers will wear a No. 4 patch on their uniforms to honor the late Duke Snider. (MLB.com)
DONE GOOD: Kudos for Dan Haren for his work in helping fund a Miracle League field, allowing special-needs kids a place to play baseball. (Arizona Republic)
MUST READ: This graphic novel biography of Roberto Clemente looks awesome. (Atomic Books)
WELCOME BACK: Hard-core baseball fans wept when MinorLeagueSplits.com was shut down, but a replacement has been founded -- mlsplits.drivelinebaseball.com/mlsp
lits. Let's just say it's already been bookmarked.
LOW AND AWAY: Our friends the Baseball Project have let us use their music for our podcast, and to celebrate opening day, Yep Roc Records has the MP3 download of their album, Vol. 2: High and Inside on sale for $3.99. (Yep Roc Records)
For more baseball news, rumors and analysis, follow @cbssportsmlb on Twitter or subscribe to the RSS feed.