By Matt Snyder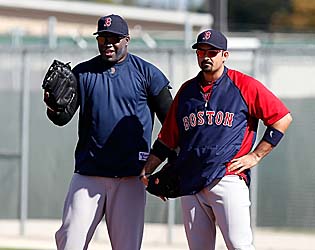 Finally, spring training is concluding. Now we have a day or two before your favorite team begins play. In the meantime, I'm here to bring you the top five teams to decline and the top five to improve upon their 2010 performances. In return, you accuse me of bias and call me names. It's fun for everyone, really. One thing to keep in mind is that improving or declining by more than 10 games is pretty drastic. On some of these, I'm looking at something like a seven-game swing.
TOP FIVE TEAMS TO IMPROVE
1. Boston
Red Sox
. Well, let's see ... Last season
Kevin Youkilis
only played 102 games,
Dustin Pedroia
saw action in 75 and
Jacoby Ellsbury
just 18.
Josh Beckett
was either injured or ineffective all season. Meanwhile the Red Sox added
Carl Crawford
and
Adrian Gonzalez
to a team that won 89 games, despite all those injury woes -- and some underachieving from people like
John Lackey
. Easiest call on the board here, and even
Yankees
fans would have to concede this team is loaded.
2. Oakland A's. The pitching staff is stellar, even including the bullpen. The starting rotation is already really good and only getting better. The A's won 81 with one of the worst offenses in baseball last season. A full season of
Coco Crisp
,
Kurt Suzuki
bouncing back and the additions of
Hideki Matsui
and
Josh Willingham
don't exactly sound like adding Gonzalez and Crawford, but small improvements will do wonders for the pitching staff. Slugger
Chris Carter
is waiting in the wings, too, and don't be surprised if Billy Beane adds a bat at the deadline.
3. Colorado
Rockies
.
Troy Tulowitzki
needs to stay healthy and
Dexter Fowler
needs to get closer to his ceiling. I'm going out on a limb that both happen, along with steps forward from
Chris Iannetta
and
Ian Stewart
. Watch
Jhoulys Chacin
's development in the starting rotation, too. He's got big potential.
4. Milwaukee
Brewers
. This is contingent upon the big names staying healthy and
Zack Greinke
getting healthy as soon as possible, because this team is paper-thin. But the top line is very impressive. Plus, the division is not very good at all. The Brewers are going to score runs, get good starting pitching (again, assuming the health thing) and have a good back-end of the bullpen. If they can overcome defense and depth deficiencies, they'll win the Central.
5. Florida
Marlins
. Call it a bit of a gut call, but I really like the Marlins. The rotation really has great potential with
Javier Vazquez
returning to a pitcher's park in the NL East (he's apparently too intimidated by being a Yankee) and
Ricky Nolasco
having the ability to be a true No. 2 if he can ever stay consistent.
Anibal Sanchez
and
Chris Volstad
have -- again, this word -- potential to be solid at the end, with stud
Josh Johnson
leading the five-some. I love the outfield potential of
Logan Morrison
,
Chris Coghlan
and
Mike Stanton
, so long as all three can stay healthy.
Hanley Ramirez
is primed to have a big season, too.
TOP FIVE TEAMS TO DECLINE
1. San Diego
Padres
. Removing Gonzalez from the middle of the batting order changes the complexion of everything. And
Mat Latos
is already hurt, which does nothing to alleviate the concern of the huge workload increase he's experienced over the past two seasons. Most of all, the Padres just seem outmanned by the
Giants
and Rockies. Winning close to 90 games seems outlandish. Of course, many people said that last year, too.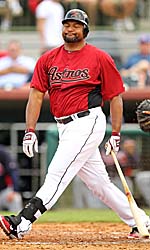 2. Houston
Astros
. They overachieved in a big way last season according to run differential (the 'Stros allowed 118 more runs than they scored) and aren't any better. Other than
Hunter Pence
, the position players are either getting old (
Carlos Lee
), still unproven (
Brett Wallace
) or just not that good (
Jason Michaels
,
Bill Hall
,
Michael Bourn
). I'm not a huge fan of the rotation, but it's going to have to carry the team. Good luck with that.
3. Tampa Bay
Rays
. This is difficult. It's hard to not love the Rays for being so good at sticking with the Yankees and Red Sox in the mighty AL East on that paltry payroll. The loss of Crawford hurts.
Carlos Pena
wasn't overly productive -- though he was much better than his batting average said -- last season, but his presence helps everyone else see better pitches. That goes away with
Dan Johnson
at first. The loss of
Matt Garza
isn't a big deal, so long as
Jeremy Hellickson
does his thing and
James Shields
returns to form. The bullpen is worse, though. Look, I'd pick the Rays to win the NL Central if they were in it, but the Yankees aren't any worse and the Red Sox are way better. The
Orioles
should be better as well. I think the Rays win in the ballpark of 86 games, but that's 10 worse than last year and good for third place.
4. Toronto
Blue Jays
. They're still building and are moving in the right direction, but winning 85 games again in that division is a very tall order. Any offensive bounce-back from the likes of
Aaron Hill
and
Adam Lind
is negated by
Jose Bautista
's return to this planet.
5. St. Louis
Cardinals
. If anyone can pull this off, it's Dave Duncan, but losing
Adam Wainwright
was a death blow.
Chris Carpenter
is old and injury-prone.
Jaime Garcia
is due a massive regression.
Kyle Lohse
was awful last year and
Jake Westbrook
doesn't have good stuff.
Kyle McClellan
could very well prove a solid No. 5 starter, but he hasn't exceeded 75 2/3 innings the past three seasons in the bullpen. Can he really double that and remain effective? The outfield defense won't do the staff any favors, either. The Pujols/Holliday/Rasmus combo -- and even
Lance Berkman
in a best-case scenario -- is very solid, but there's only going to be so much they can do on some nights. I feel like mid-to-high 70s in wins, but Duncan and Tony La Russa find ways to make people wrong often.
For more baseball news, rumors and analysis, follow @cbssportsmlb on Twitter or subscribe to the RSS feed.