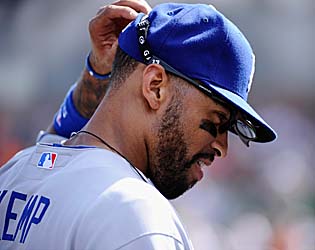 By Matt Snyder
Well, it's almost opening day, which means it's time for all us writers to put ourselves out there and make some predictions. In the end, every season is unpredictable and we're bound to be wrong on several of these. That doesn't make it any less fun. It's supposed to be fun, remember?
In this entry, we'll take a look at five players sure to improve upon what we saw in 2011 and five that are going to regress.
Five players who will improve upon 2010
A.J. Burnett
,
Yankees
. He was pretty brutal last season, but it's a new one. Opening day is time for rebirth and we have to turn the page. His xFIP and strand rates from last season both show us he wasn't nearly as bad as his 5.26 ERA showed. His stuff wasn't sharp at all, either, as his lowest K-rate since 2001 illustrates. There are many instances where spring stats don't mean anything (like
CC Sabathia
, to name a different Yankees hurler), but for someone needing to turn the page like Burnett, it's important to throw well. He did this spring, putting together a 2.77 ERA in 13 innings. More importantly he struck out 11 and walked zero.
Derek Holland
,
Rangers
. The youngster hasn't fared well in the majors thus far, but he's still only 24. He has lock-down dominated the minor leagues since being drafted in 2006. Last season in Triple-A he was 6-2 with a 1.87 ERA. He's 23-9 with a 2.47 ERA in his minor-league career with an outstanding 3.68 strikeouts for every walk. It's time to start showing this potential at the MLB level, and I believe 2011 will be the first step toward doing so.
Matt Kemp
,
Dodgers
. He's refocused after a step backward in 2010. Which is weird to say, considering he had a 107 OPS+ and 28 bombs as a 25 year old -- but it really was a step back from his 2009 season, in which he won both a Silver Slugger and a Gold Glove. He's having a solid spring and seems to be happier under Don Mattingly. Expect to see improvements in nearly every category -- except games played, since he appeared in all 162 last year.
James Shields
,
Rays
. The traditional stat categories looked awful for Shields in 2010 -- 13-15, 5.18 -- but he really wasn't that bad. His strikeout rate was the highest of his career, balls in play were hits far too often (.341, as compared to a .308 career mark) and his xFIP was 3.72. If you don't like all the sabermetrics stuff, that's OK, but all of it says he's going to have a huge regression to the mean this year. In layman's terms, expect more 2008 (14-8, 3.56) than 2010.
Justin Upton
,
Diamondbacks
. He appeared headed for superstardom in 2009, but took a step back in 2010. Still, like Kemp, he's awfully young (23) and his OPS+ was still good (111). This season, expect Upton's walk rate to continue to rise, as such he'll run more. Also, his power took a significant dip last season and he wasn't fully healthy. He is now, so look for a big step forward in '11.
Five players who will decline from 2010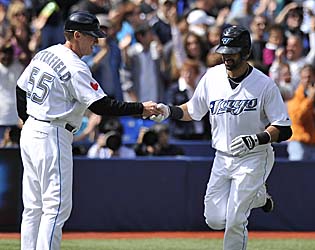 Jose Bautista
,
Blue Jays
. I once worked with a guy who liked to say, "just because it's obvious doesn't mean it's not true." Just to clear the air, I don't think Bautista cheated nor do I think last season was anything other than a continuation of his last month in 2009, which resulted from a new swing. I do not, however, think he's ever going to hit more than 40 homers in a season again. He hit 54 last year. Even if he comes through with another big season, he's going to see a huge regression. Think about it, if he hits 35 bombs, that's a whopping 35 percent less than last year.
Mat Latos
,
Padres
. His shoulder issue right now is concerning, as are the giant leaps in workload the past two seasons. Plus, he began to falter down the stretch last year anyway -- going 0-5 with a 8.18 ERA and 2.00 WHIP in his last five starts. And his team is now worse. Basically, I hope you let someone else draft him in Fantasy.
Josh Hamilton
, Rangers. Led the majors in batting average, slugging percentage and OPS. Won the MVP. Are those things going to happen again? Technically speaking, it's pretty easy to say he's going to regress even if he has a solid season. If you wanna dig deeper, OK, his BABIP was a stupid .390, his isolated power flew off the charts and his ability to stay on the field must be questioned -- he couldn't even do that last season.
Buster Posey
,
Giants
. His numbers were pretty insane last year in a short time. He struck out at a much lower rate than he ever did in the minors and didn't lose any of his power. There's a reason the "sophomore slump" term has hung around for a while, and it's not because guys automatically just play worse in their second year. It's because advance scouts, pitchers and pitching coaches have a large sample of at-bats to study and can start to find small holes in a swing. Some guys are immune. If Posey is, I'll be wrong in this pick -- and I'm fine with that. He's a very likeable guy.
Jayson Werth
,
Nationals
. I do like that
Ryan Zimmerman
is his protection, but he's still going to a worse team in a worse lineup in a less homer-friendly ballpark. And now instead of playing behind Halladay/Lee/Oswalt/Hamels/Blanton he has to face them. Then, instead of facing the Nationals' pitching staff 19 times a season he's playing behind them. And he just got a huge, almost inexplicable, contract. It's hard to see him getting better.
For more baseball news, rumors and analysis, follow @cbssportsmlb on Twitter or subscribe to the RSS feed.