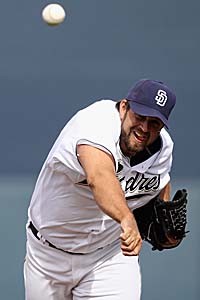 By Matt Snyder
One of the big reasons preseason predictions are often blown to bits is the number of games played by certain players for certain teams. Major injuries, for example, but also because players end up being traded. Underachieving and overachieving teams end up becoming sellers and buyers, respectively, by the deadline.
There are going to be names already being thrown around in rumors and on fan message boards from the get-go. We'll give you five obvious names sure to appear in trade talks. Then, because it's so much more fun to throw stuff at the wall, we'll dig deeper and find 10 not-so-obvious names that could end up being traded or at least discussed. In those cases, certain things have to happen in order to clear the way for a deal, but those things can't be absolutely outlandish.
Remember, many players have no-trade clauses or are 10-and-5 guys, so every possible deal is contingent upon that. We're just making a list and enjoying it as a fun discussion point.
Let's get it on.
FIVE OBVIOUS TRADE NAMES
Michael Young
,
Rangers
. No explanation needed, really.
Heath Bell
,
Padres
. He wants to stay in San Diego and the Padres might want to try and keep him (without having to pay much long term, of course), but when the market for late-inning relievers gets strong in July and the Padres are well out of the race, he'll be one of the most mentioned names.
Felix Hernandez
,
Mariners
. For now, the Mariners have sworn up and down he's never going anywhere. Even if the team is brutal again this season, it's reasonable to believe the Mariners will immediately hang up the phone any time someone like Brian Cashman says the name Felix. But if they start listening and someone is desperate enough to absolutely bowl them over, it very well might happen. He's in the obvious category because I'm sure people will not stop talking about the possibility. My initial feeling is he ends the season in Seattle, however.
Fausto Carmona
,
Indians
. Remember
CC Sabathia
and
Cliff Lee
? Carmona is a big step down, but he's still a starting pitcher on the Indians who is not going to re-sign. He only has a club option left on his contract after 2011. When (not if) teams become desperate to add starting pitching in the race --
Yankees
and
Cardinals
come to mind as candidates, but it could be anyone if unforeseen injuries or ineffectiveness pops up -- teams will come calling for Carmona. That is, of course, assuming he's been productive and the Indians are out of it. And you know the Indians will listen. My prediction is he's the most sure bet on here to be traded.
Grady Sizemore
, Indians. Same as Carmona, except Sizemore has tons more upside and tons more downside -- due to injury woes. If he shows he's healthy and the Tribe don't inexplicably stay in the AL Central race, he's gone. Only a 2012 club option remains on his contract after this season.

10 NOT-SO-OBVIOUS NAMES
Jonathan Broxton
,
Dodgers
. He's a free agent at the end of the year and we know about the Dodgers' money woes. As long as they aren't in the midst of the race, some team is going to want to bolster its bullpen. This one is pretty feasible, actually.
Chris Carpenter
, Cardinals. As with every player's present team on this list, the Cardinals would have to fall out of contention pretty early. If they did, Carpenter has already said he's not averse to a deal. Plus, he's a free agent after the season and there's some big-name soon-to-be free agent the Cards desperately want to keep.
Francisco Cordero
,
Reds
. Only a '12 club option remains on his contract. What if Cordero loses his closing job to
Aroldis Chapman
early a la
Frank Francisco
yielding to
Neftali Feliz
last year? What if the Reds fall out of contention? Easy to see a chain of events here.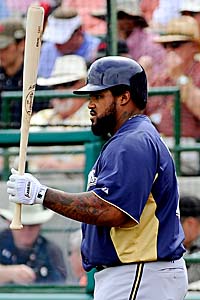 Prince Fielder
,
Brewers
. Least likely candidate on here. The Brewers would have to fall really, really far out of the race. If that did happen, yet he was having a big season, another team might pay enough for him that the Brewers couldn't refuse, especially considering he's a free agent after the season and almost certainly leaving.
Travis Hafner
, Indians. He's not obvious like Sizemore and Carmona because Pronk has that pesky $13 million due to him in 2012. Of course, let's give an example of someone that might pay: Say the Yankees are five games behind the
Red Sox
,
Jorge Posada
is hurt,
Jesus Montero
either gets traded for pitching or isn't hitting well in the minors and none of the other spare parts (like
Eric Chavez
) are working. On the flip-side, Pronk is raking. Would the Yankees make that move? I think they might. His pull power from the left-side would fit well in Yankee Stadium.
Aaron Hill
,
Blue Jays
. The Jays are building a good foundation and a Hill deal would give them some flexibility both financially and defensively. They could move top prospect
Brett Lawrie
back to second base -- the only position he ever played professionally prior to this spring -- and then use
Jose Bautista
at third or keep him in the outfield, whatever worked best moving forward with the makeup of the roster. If Hill gets off to a hot start and the Jays don't, I like this move.
Francisco Liriano
,
Twins
. He's here because it's already been rumored and the Twins have the option -- at least for now -- to move
Kevin Slowey
back into the rotation. As long as the Twins are in the thick of the AL Central, though, which should be all season, I don't see it happening.
Brandon Phillips
, Reds. Not as far-fetched as you might think. OK, well, the Reds have to fall far out of the race in the NL Central (which seems incredibly unlikely), but if they do, Phillips is a big candidate to be shipped. He has a club option after the season and will be 30 by the deadline. Plus, his power has declined rather significantly since his breakout 2007 campaign.
Aramis Ramirez
,
Cubs
. It's hard to see a scenario where the Cubs would pick up Ramirez's 2012 option, so this could easily be his last season in Chicago. If he stays healthy, hits like he can and the Cubs are not in the race by mid-July, he'll definitely be available.
Jose Reyes
,
Mets
. A free agent at the end of the year, if Reyes proves he's healthy and produces numbers while the Mets fall behind in the NL East, he's certain to be dealt.
For more baseball news, rumors and analysis, follow @cbssportsmlb on Twitter or subscribe to the RSS feed.