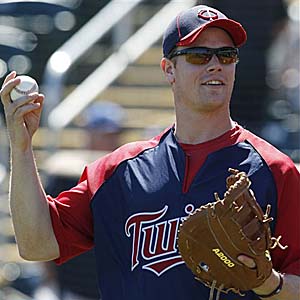 By Matt Snyder
In light of several recent players' bouts with concussions -- such as
Jason Bay
and
Justin Morneau
-- and increasing national awareness about the dangers of the head injury, Major League Baseball and the MLB Players Association have come together to announce several new protocols for dealing with concussions for the 2011 season.
In terms of day-to-day operation, the biggest change will be the establishment of a seven-day disabled list. Previously, the minimum a player could be placed on the disabled list was 15 days. This new DL option will "aim to allow concussions to clear, prevent players from returning prematurely and give clubs a full complement of players in one's absence." (via MLB press release)
When a player wishes to return after a concussion, his club must submit a "return to play" form to the MLB's medical director. This is required even if the player was not placed on the disabled list.
"I believe that Major League Baseball is taking a major step forward on a vital shared goal with the MLB Players Association," said Baseball Commissioner Allan H. (Bud) Selig. "This policy, which reflects the collective expertise of many of the foremost authorities in the field, will benefit players, umpires and clubs alike, and I am proud of the spirit of cooperation that has led us to this result."
Another prong of the new policy is that during play, any incident which typically leads to a higher risk of head injury -- such as being hit with a pitch in the head -- there are additional protocols in place to immediately evaluate the possibly-injured players or umpires. Also, a "mandatory baseline neuropsychological testing" requirement is in place for every player and umpire during spring training or when a player joins a team during the season.
"The MLBPA is pleased to have worked with the Commissioner's Office, members of Club training and medical staffs and some of today's leading experts in neurology to develop new protocols for the diagnosis and treatment of concussions," said MLBPA Executive Director Michael Weiner. "Player safety is a major concern of the collective bargaining parties, and these new protocols and procedures should enhance our ongoing efforts to protect the health of players and umpires."
The commissioner's office has also formed a committee to conduct an orientation for the medical staffs of each club. It is chaired by Alex Valadka, MD, FACS, who is Chief of Adult Neurosciences and Neurosurgery at the Seton Brain and Spine Institute in Austin, Texas.
For more baseball news, rumors and analysis, follow @cbssportsmlb on Twitter or subscribe to the RSS feed.