By Evan Brunell
Managing a team is a tall task. Not only do managers have bosses to answer to, but they are responsible for overseeing a coaching staff, promoting good relationships with athletes who will earn far more than a skipper can dream of, winning games and knowing at the first whiff of trouble, the ax will fall not on the player or the GM, but the manager.
Even coaching legends Bobby Cox, Joe Torre and Tony La Russa have multiple teams on their managerial resume, some stops which ended in being let go. Which managers are in similar danger this season?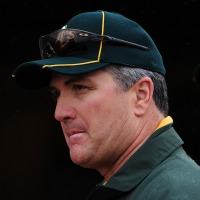 Bob Geren, Athletics
Fifth season
Athletics record: 307-340
Contract: 2011 team option picked up after one-year extension
Geren is just sort of ... there. He doesn't make waves, which is good. He hasn't had any run-ins with players or made headlines, all good things. On the flip side, however, he gets next to no praise for his job done piloting the A's.
Sure, part of that has to do with his tepid success, as the team is 33 games under .500 with Geren at the helm, dropping from 93-69 in Ken Macha's final season of 2006 to 76-86 the next year. In 2010, Oakland split 162 games, marking the first time Geren did not have a losing record in Oakland. That's not the kind of stuff that gets you attention.
But there's another aspect to it, and that's the belief that Geren does what the front office wants. One would think this would be a good trait, as it's often smart to listen to your superiors. But when you're largely considered a placeholder with all the important decisions coming from above ... well, that's why there hasn't been much praise for Geren.
Geren is replaceable, even if he's functional. In a season with increased expectations after moves made that have some believing the A's could win the division, Geren will need to perform. If he doesn't, the front office will have to weigh whether the effect of letting Geren go could improve the team. There's a school of thought that sometimes replacing managers can be responsible for a bump in play. This is where Geren's perceived "yes-man" role could come back to hurt him as he wouldn't have other intangibles -- such as his skilled mastering of clubhouse dynamics or in-game management or player evaluation -- to fall back on to compel Oakland to retain him.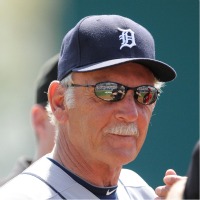 Jim Leyland, Tigers
Sixth season
Tigers record: 424-387
Contract: Final year of two-year contract extension
Leyland burst on scene in 2006 after a six-year hiatus and took Detroit to the World Series before eventually falling to the Cardinals. He would win seven less games the following year, but repeated a second-place finish.
However, Leyland's Tigers would drop all the way to fifth place in 2008 with a 74-88 mark before rebounding with 86 wins before last season's 81-81 finish. As Leyland has pronounced, it is time for him to show that he can put Detroit in the playoffs as his job is on the line.
Leyland doesn't really deserve blame for the Tigers' slide back into mediocrity these last few years as Detroit has battled injuries to key players along with undeserving players making far too much money when the club had to convince free agents to come to town following 2003's 119-loss debacle. But after an offseason in which the club imported Victor Martinez, Joaquin Benoit and Brad Penny, among others, the expectation in town is to contend for the division title and certainly finish over .500.
If that doesn't happen, Leyland could easily take matters into his own hands and simply walk away. But if the Tigers are flailing early on, management would likely not hesitate to make a move despite Leyland's stature in the game.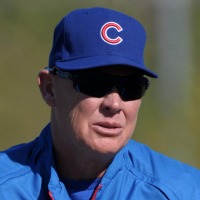 Mike Quade, Cubs
First full season (second overall)
Cubs record: 24-13
Contract: First year of two-year contract plus 2013 team option
Quade had a rough start to his managerial career, even if his record stands at a sterling 24-13. Quade had the luck of replacing Lou Piniella after Sweet Lou's sudden departure from Chicago. Quade then battled his way from being an unknown to beating out franchise icon Ryne Sandberg for the permanent job, causing Sandberg to leave town in a huff.
Quade's reward? Attempting to bring a World Series to the North Side for the first time in over 100 years and already having to manage a clubhouse fight between Carlos Silva and Aramis Ramirez. Good luck!
So why is Quade on the hot seat, especially since he has two guaranteed years on his deal? Because if the Cubs don't perform, the money allocated to Quade will be little enough to not be of concern. If Chicago is careening toward 100 losses, the public backlash will be too great for GM Jim Hendry to ignore.
On Quade's side is a relative luxury of uncertainty surrounding the team. The Cubs could feasibly land anywhere between 75-85 wins, and both 90 wins and losses can't be discounted either. Quade would have to really bomb to get cut, but what's worth monitoring is how the front office stands up to what could be an irate fan base should Chicago dip under .500.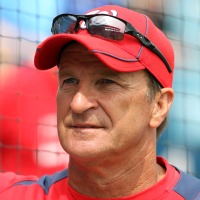 Jim Riggleman, Nationals
Second full season (third overall)
Nationals record: 102-135
Contract: Final year of two-year contract with 2012 team option
Riggleman is a manager who is just sort of there. The Nationals didn't harbor any illusions that Washington would contend, so Riggleman has essentially received a free pass on the Nationals' record since taking over.
It certainly helps that Riggleman is thought to be among baseball's lowest-paid skippers. However, given the Nationals' increased expectations of winning, starting in 2011, Riggleman could be considered a lame-duck candidate -- especially given GM Mike Rizzo just received a contract extension through 2015. Given Rizzo picked Riggleman both to be interim manager and to remain as permanent skipper, it speaks volumes that the long-time manager does not have more job security.
A strong showing will certainly force Washington's hand in picking up the team option or negotiating an extension, but given nothing has happened to this date, it's clear that management is waiting to evaluate Riggleman's performance on the field.
The Nationals are unlikely to reach .500 this season, even as they talk game about making improvements to the team. A .500 record is a more realistic goal for 2012, but given the pronouncements and optimism of the front office, Riggleman could end up taking the heat if the team plays slightly worse, if not to, talent level.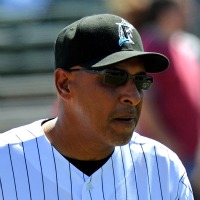 Edwin Rodriguez, Marlins
First full season (second overall)
Marlins record: 46-46
Contract: First and final year of contract
The Marlins wanted Ozzie Guillen, that's no secret.
Edwin Rodriguez ended up being the consolation prize to finish out the season after Fredi Gonzalez's dismissal. But even his 46-46 showing wasn't enough to land him the inside track on being Florida's permanent manager.
Florida certainly tried to find a new manager, but no one -- at least, no one they wanted -- was biting. So Rodriguez became a consolation prize and agreed to a one-year deal with Florida, which positions him for a quick exit should the Marlins fail to start the year with anything less than a .500 record. Owner Jeffrey Loria has always had idiotic expectations (as Joe Girardi and Gonzalez can attest to as well), and the positioning of the Fish as a "sleeper team" will only pressure Rodriguez more to get off to a fast start.
A trigger-happy owner with unrealistic expectations for his team, which searched far and wide before settling on bringing back Rodriguez, who agreed to a one-year deal -- which certainly has to have a low salary attached to it -- is a recipe for landing on the hot seat. In fact, of all the managers listed, Rodriguez is the best bet to be handed his walking papers.
Potential replacements
It's rare for a team to make an outside hire in midseason to pilot a team. Most teams opt to go with interim managers, filling from the bench or third-base coach spots (like Quade) until they can better evaluate at the end of the year. There are exceptions, as Buck Showalter can testify to. To that end, it's tough to predict with any certainty who would fill managerial spots in season. However, Bobby Valentine has been a hot name and given his repeated linking to the Marlins vacancy would have to be the prohibitive favorite to take over Florida should Rodriguez be handed his walking papers.
For more baseball news, rumors and analysis, follow @cbssportsmlb on Twitter or subscribe to the RSS feed.