By C. Trent Rosecrans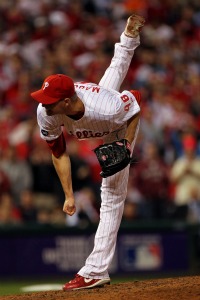 With Brad Lidge starting the season on the disabled list, Ryan Madson is on the Phillies' short list to fill-in as the team's closer in Lidge's absence.
Madson would seem a natural choice. Since going to the bullpen full-time in 2007, the 30-year-old right-hander has a 3.01 ERA and 17 saves in 248 games. He has more strikeouts (252) than hits allowed (242) in 269 innings, and a respectable 1.201 WHIP. Last season he had a 2.55 ERA and a 1.038 WHIP in 55 appearances, along with five saves.
The problem is he had 10 save opportunities last season and converted only five of them. In his career, he has four more blown saves than converted saves -- 24 blown to 20 saved.
This is where much of the hypotheticals of baseball fail -- the way people react to real-life situations are tough to put into numbers -- and I say that as a full-fledged subscriber to the numbers. The numbers say Madson should be able to get three outs at a time. In fact, in innings other than the ninth, he does that pretty well. Serving as the Phillies' primary set-up man, Madson (35) actually appeared in more high leverage situations than Lidge (32) in 2009. He appeared in fewer last season, but it was close (26 vs. 31). In high-leverage situations he performs even better -- he's got a better strikeout-to-walk ratio (3.15) in high-leverage situations than in other leverage situations, a better batting-average against (.238) and OPS (.667) in high-leverage situations.
In short, Madson has been one of baseball's best setup men, even when thrown into a high-pressure situation. It's just that when he's been called on for those last three outs, it's never seemed to work.
A high-leverage situation should be the same whether it's in the eighth inning or the ninth inning -- unless you make it different in your head. And that's something Madson has admitted he's done. That's how being a closer is different than being a reliever, finding your peace with that in your own head.
Madson told the Philadelphia Inquirer's Matt Gelb that he thinks a talk with his agent, Scott Boras, has helped him come to terms with closing and approach it the right way.
"He said, 'Tell me what your mentality was when you were closing,'" Madson recalled. "I was like, I thought I was going to be perfect. I really thought I was going to be perfect and not blow one save. That was my mentality going out there. That's what I was like in the minor leagues, so I stuck with it. Well it doesn't work that way. You're putting too much emphasis on every pitch. It has to be perfect. Then when you blow a save, it carries on and little things happen. It's so finicky of an inning you can't be finicky with your mooned. You just have to be solid and just know, 'This is going to happen. Tomorrow it's not.'"
Madson, a free agent after this season, may think he's got it figured out, but Lidge's injury gives him a chance to put it to a real test.
For more baseball news, rumors and analysis, follow @cbssportsmlb on Twitter or subscribe to the RSS feed.