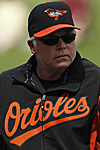 By Matt Snyder
One would think playing in the AL East with the
Yankees
and
Red Sox
-- not to mention the
Rays
-- would be a difficult enough task without angering the opposition. Yet that's exactly what
Orioles
' manager Buck Showalter decided to do in an interview for April's issue of
Men's Journal
. (
via NorthJersey.com
)
"The first time we went to Yankee Stadium, I screamed at Derek Jeter from the dugout," Showalter told the magazine. "Our guys are thinking, 'Wow, he's screaming at Derek Jeter.' Well, he's always jumping back from balls just off the plate. I know how many calls that team gets – and yes, he [ticks] me off."

Of the Red Sox, Showalter was even more candid.

"I'd like to see how smart Theo Epstein is with the Tampa Bay payroll," he said. "You got Carl Crawford 'cause you paid more than anyone else, and that's what makes you smarter? That's why I like whipping their butt. It's great, knowing those guys with the $205 million payroll are saying, 'How the hell are they beating us?' "
I'm confused here. Buck goes after the Red Sox for having a big payroll but said $205 million. That's the Yankees. The Red Sox are in the $170 million range. It's also funny he said he likes "whipping their butt." Again, not sure which team he's talking about, but it doesn't matter. Showalter's Orioles went 3-3 against both the Red Sox and the Yankees last season. That's hardly whipping anyone's backside. Maybe he meant to speak in the future tense and was talking about this season? If so, I won't be holding my breath.
Look, the Orioles are probably a good amount better than they were last season at this time, but that doesn't mean they're contenders in the AL East. I'll also give credit to Showalter for trying to establish to his players and the fans that he's not scared of the two financial powers in the division. It just seems a bit much (and going after Jeter? Really?). Plus, I've had enough with the whining about money. After all, the Orioles
had an operating profit of over $25 million last season
-- and the Red Sox lost money.
For more baseball news, rumors and analysis, follow @cbssportsmlb on Twitter or subscribe to the RSS feed.